HURLBURT FIELD, Fla. — A gold star is used to award those who worked hard for something. It signifies a job well done. It is hard to think of a more worthy person to receive that symbol of excellence than a service member who died in combat.
Gold Star Mother's and Family's Day, the last Sunday in September, is reserved to honor the family of those service members and remember the loss they have suffered. There are 35 gold star and Air Force Families Forever members assigned to Hurlburt Field.
"What we are doing to recognize those families is putting a designated parking spot up for them at the Commissary," said Ellen Fields, a 1st Special Operations Force Support Squadron Air Force Families Forever program officer.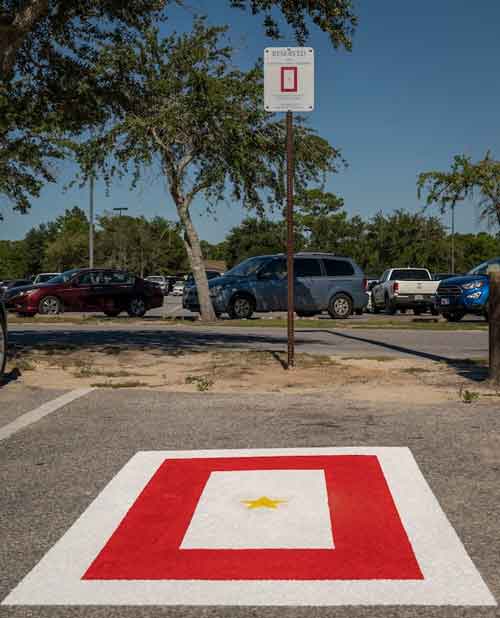 Linda Vickery, a member of Daughters of the American Revolution, saw the new parking space as it had just been uncovered and announced how wonderful it was. She said she is always supportive of anything that can be done to recognize gold star families.
Fields also regularly engages with gold star families assigned to Hurlburt so they can stay connected to the U.S. Air Force family. She helps eligible members get Defense Biometric Identification System cards, allowing them access to the installation.
This ensures they can attend any recognition ceremonies in honor of their service member, or participate in morale, welfare and recreation activities.
"Making sure they are taken care of is the bottom line of this program," said Fields.
She expressed how great it would be if Airmen were to participate in the program. They can share their ideas of how to honor their fellow service members in the future, or get involved in already existing events.
"I want gold star families to know they are cared about, and they are loved," she said. "They are honored, and their service members are honored."
For more information, please reach out to the Airman and Family Readiness Center at (850) 884-5441/5442.
Story By Senior Airman Miranda Mahoney, 1st Special Operations Wing Public Affairs