HURLBURT FIELD, Fla. — U.S. Highway 98 will be closed at Hurlburt Field from Saturday night until Sunday morning, November 5-6, to reinstall a pedestrian bridge, the 1st Special Operations Wing has announced.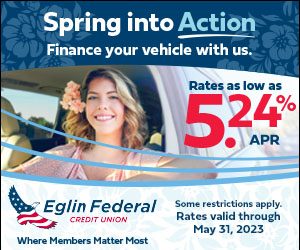 The road closure was originally scheduled to take place Oct. 29-30 but has been rescheduled due to concerns about the weather,
According to the announcement, Highway 98 at Hurlburt Field will be closed to through traffic from 10 p.m. on Saturday, Nov. 5, to 8 a.m. on Sunday, Nov. 6.
In addition, traffic on Hwy. 98 will be reduced to two lanes, and the westbound access ramp to Hwy. 98 will be closed beginning at 5 p.m. on Nov. 5 to allow for a crane set up on the westbound lanes, the announcement said.
Beginning Nov. 6 at 8 a.m., Hwy. 98 will reopen to traffic in a two-lane configuration until approximately 10 a.m. when Hwy. 98 will fully reopen to traffic.

According to the 1st Special Operations Wing:
Traffic will be allowed to go from Soundside on Cody Ave. to the main base and back through the Hwy. 98 underpass during the entire time. Traffic on Cody Ave. will not be allowed to enter Hwy. 98, to the east or west, while Hwy. 98 is closed.
Off-base (non-DoD ID cardholders) traffic will need to travel up to I-10, from the east and the west.
DoD ID cardholders will be able to use the temporary McMillian gate on Hwy. 98, west of the pedestrian bridge.
Also, both the East gate and McMillan gate will open at 10 p.m. when Hwy. 98 east-west traffic is shut down.
Once the bridge is in place, additional work will need to be done, so it will not immediately be re-opened to pedestrian traffic, the 1st Special Operations Wing said in its statement. Leadership expects to re-open the bridge to pedestrian traffic prior to Christmas.
By 1st Special Operations Wing Public Affairs
This story was updated to reflect the new dates.