NICEVILLE, Fla. — Lana Kenoyer of Niceville High School is the first-place winner in the 2022 Martin Luther King, Jr. Poster Contest (high school division), and Gabrielle Valdez of Ruckel Middle School is the first-place winner in the MLK Oratorical Contest (middle school division).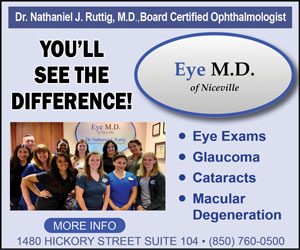 All first-place winners received a cash award of $200 from Sigma Omicron Omega Chapter of Alpha Kappa Alpha, Inc., the contest host.
This year's theme was "Stand – Act – Unite," and more than 70 Okaloosa County School District (OCSD) students participated.
"This contest provides students the opportunity not only to express their speaking and artistic talents but also pays tribute to Dr. Martin Luther King, Jr. and provides an avenue to honor his contribution to American civil rights," said Marcus Chambers, Superintendent of Schools.
"Congratulations to all of the winners. You represented your schools and our district well!"
The 2022 Dr. Martin Luther King, Jr. Oratorical and Poster Contests were open to grades K-3, 4-5, 6-8, 9-12, and community schools.
Each student that participated in the contests received a medallion, and 1st, 2nd, and 3rd place winners in each category received a trophy.
HERE ARE THE POSTER CONTEST WINNERS:
K – 3rd Grade
1st Place: Jaxon Godwin – Wright Elementary School
2nd Place: Kambree Carducci – Kenwood Elementary School
3rd: Isabel Figueroa- Carzone – Wright Elementary School
4th – 5th Grade
1st Place- Alejandro Pineda – Destin Middle School
2nd Place- Emmalee Griffin – Bluewater Elementary School
3rd Place- Conner Graham – Plew Elementary School

Middle School
1st Place- Bianca Arevalo – Shoal River Middle School
2nd Place- Melanie Gonzalez – Bruner Middle School
3rd Place- Charles Gere – Bruner Middle School
High School
1st Place- Lana Kenoyer – Niceville High School
2nd Place- Lillian Zaydman – Niceville High School
3rd Place- Unique Redmond – Crestview High School
Silver Sands School
1st Place- Quinston Douglas – Silver Sands School
2nd Place- Arica Blackmon – Silver Sands School
3rd Place- Destiny D'Angelo and Charlotte Sullivan – Silver Sands School

HERE ARE THE ORATORICAL CONTEST WINNERS:
K – 3rd Grade
1st Place- Evie Narbutovskih – Destin Elementary School
2nd Place- Zoey Farmer – Longwood Elementary School
3rd Place- Aydan Sariol – Wright Elementary School
4th – 5th Grade
1st Place- Azalya Stafford – Riverside Elementary School
2nd Place- Glen Cunningham – Wright Elementary School
3rd Place- Jayden Bogan – Wright Elementary School
Middle School
1st Place- Gabrielle Valdez – Ruckel Middle School
2nd Place- Jacob Spengler – Ruckel Middle School
3rd Place- Sydney Foggo – Ruckel Middle School
High School
1st Place- Layla Seaton – Fort Walton Beach High School
2nd Place- Vivian Barnes – Crestview High School
3rd Place- Marcella Torry- Fort Walton Beach High School