NICEVILLE, Fla. — Eglin Federal Credit Union (EFCU) has presented its prestigious achievement award to its member services counselor in Bluewater Bay.

Rita Crusett-Vogel, of Niceville, has been recognized by EFCU with an achievement award for 30 years of service.
"We would like to thank Rita for her 30 years of service to Eglin Federal Credit Union," said Jerry Williams, EFCU President/CEO.
"Dedicated, long-standing employees like Rita contribute to our success and help us achieve our mission."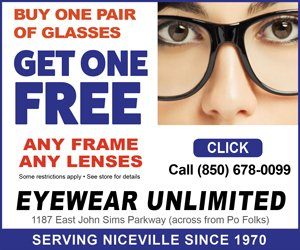 According to EFCU, Rita joined the credit union in 1993 as a teller in Fort Walton Beach. She transferred to Bluewater Bay in 1997, where she progressed to member service counselor in 2014.
"It's wonderful for our members to have familiar faces like Rita to depend on over the years," said Susan Coup, EFCU Bluewater Bay Branch Manager.
Crusett-Vogel said she is thankful to have the opportunity to work with such a great team at EFCU and to serve its members.
"Thank you very much for this recognition. I have been at the Bluewater Bay Branch since it opened, and I really love what I do," she said.
"I enjoy serving our members and have been here long enough to have some of their children come in and ask for me. Seeing the many changes and growth at the credit union is fantastic."