NICEVILLE, Fla. — The 2022  Timpoochee Family Trick or Treat Night is Friday, October 28 at 4-H Camp Timpoochee east of Niceville.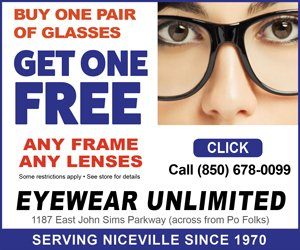 The community is invited to take part in a special Halloween-themed family night of fun, costumes, and safe trick-or-treating. Trick or Treat Night is open to everyone, said the UF/IFAS Extension, the event organizer.
Admission is free; however, donations are much appreciated.
Trick or Treat Night hours are from 4:30 p.m. to 7:30 p.m.

Families are invited to trick or treat from cabin to cabin around Camp Timpoochee. Costumes are encouraged. Beverages will be available for donations.
The OneBlood Bus will be on site for eligible guests wishing to donate blood.
"We are so excited for our 3rd Family Trick or Treat Night! Join us for an exciting evening of safe trick or treating, costume wearing, and family fun!" the UF/IFAS Extension said in its announcement
Camp Timpoochee will announce its 2023 summer camp dates at the event and hold a raffle for a free week of day camp, organizers said. The suggested donation for raffle tickets is $5 each or $20 for five tickets.
Please pre-register here for Family Trick or Treat Night.
Parking is limited; organizers suggest carpooling.
Camp Timpoochee is at 4750 Timpoochee Lane, Niceville, FL 32578.
Trick or Treating is provided by such local organizations and businesses as:
Bay Area Awards
Celebrate Recovery
Emerald Coast Lawn Maintenance
Julie Statts, DO, Family Medicine
North Bay Fire Control District
Okaloosa County Sheriff's Office
Okaloosa Dots
PNB Community Bank
Salty Pop Popcorn
Smileology
Spine Life Chiropractic
All proceeds go to the programmatic and facility development of 4-H Camp Timpoochee.
If you are unable to attend the event but would like to make a contribution, feel free to add a donation using Eventbrite or contact timpoochee4h@ifas.ufl.edu.
Questions? Contact timpoochee4h@ifas.ufl.edu or 850-897-2224.