HURLBURT FIELD, Fla. — He immerses himself in the alternate world he frequently visits. He maneuvers through a gunship, completing the tasks he has done so many times before. His instructor watches intently as he finishes each one with little error.
The 1st Special Operations Maintenance Group Airman removes his virtual reality goggles. He is finally ready to complete his tasks on the flight line.
Earlier this year, members of the 1st SOMXG visited Dyess Air Force Base, Abilene, Texas, to tour the base's VR facility. They asked questions to gain insight into how they could use VR.
"Our goal here is to personalize the VR program to best suit Hurlburt Field," said Tech. Sgt. Bryan Pate, the 1st SOMXG maintenance training instructor NCOIC.
Afterward, the group began discussing what needed to be done to implement VR technology at Hurlburt Field. They identified one area in particular that could benefit from the implementation of VR: training.
By conducting training through VR, the group can keep aircraft mission-ready while saving time and money. Pate added that VR will help streamline the training process, allowing Airmen to familiarize themselves with their specific frame before working on the actual aircraft.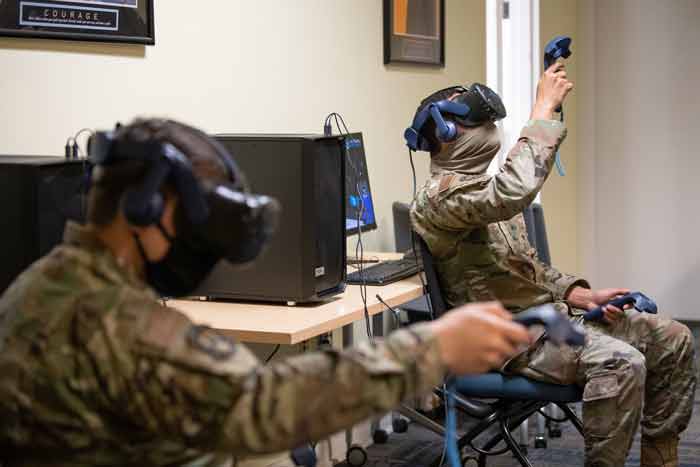 "To conduct training, we have to make the aircraft non-mission capable," said Pate.
"Instead of having to train on an aircraft multiple times before you feel confident and your trainer is comfortable signing you off, you would train with VR first and only have to train on the aircraft a couple of times before getting signed off."
Another advantage to using VR technology is that it can be customized for each aircraft type. Airmen are trained on similar aircraft frames at school, however, they are not always the exact aircraft they are expected to work on at their first duty station.
The most significant cost-saving advantage of VR technology is that it allows students to train without running the aircraft motor for an extended period.
"The auxiliary power unit is where we expect to see the greatest cost savings," said Pate.
"By using VR to simulate the APU, you are not only sparing the engine of unnecessary usage but also conserving the fuel it would take to power that engine."
VR can also be used when Airmen are operating downrange. Although maintainers are trained and proficient on tasks before earning their five-level, not all of those skills are used consistently.
VR allows Airmen to train on skills they have not needed to use at their current base, and better prepare them for deployments.
Currently, the 1st SOMXG has a small VR setup. However, the group plans to build a new facility by November 2022 – specifically for VR training. Pate noted that VR technology could be used by many other military career fields beyond aircraft maintenance.
"If more units express interest in utilizing VR for training, it could cause an increase in funding and priority and allow us to acquire more modules," said Pate.
By Airman 1st Class Amanda Flower-Raschella, 1st Special Operations Wing Public Affairs