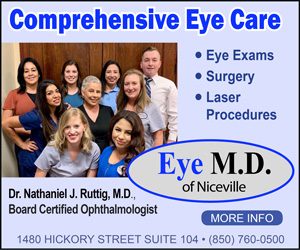 Airman 1st Class Courtney Mitchell got more than a bird's eye view of the Emerald Coast, when her boyfriend, Airman 1st Class Richard Caesar, surprised her with an Aero Club orientation flight here May 25, Memorial Day.
At an altitude of 1,100 feet on the overcast morning, she also got an engagement ring.
"I knew we were doing something interesting, but he didn't say what it was," said Mitchell, a cardiopulmonary technician in the 96th Medical Group's cardiology department's specialty clinic.
Caesar, a contracting specialist with the Air Force Test Center's contractor section, made his midair proposal halfway through the 20-minute flight over Eglin, Fort Walton Beach and Destin.
Mitchell's first indication something special was happening was when she found a card waiting for her in the back seat of the plane.
She read the card and after about 10 minutes of flight, Caesar told her he meant everything in it, presented the ring and asked her to marry him.
"My jaw dropped," Mitchell said.  "I was shocked and amazed.  I said yes."
Caesar appreciated the Aero Club staff's help with his "out of the ordinary" proposal plan.
"They were really accommodating," he said.  "I signed up for the flight two weeks prior and arranged for us to be the only two people on the flight.  They agreed to have the card in the plane when we took off.   I'm thankful to them for helping to make the moment special."
Mitchell and Caesar were just two of 29 people who flew with the Aero Club during the Memorial Day weekend. Orientation flights are one of many services provided by the Aero Club.
The club routinely aids the base with low-level mission support and route surveys.  The base uses club aircraft to simulate aircraft disasters in training exercises; fly smoke watches for Jackson Guard; and to hide simulated contraband and explosives for search exercises by working dogs.
The club also interacts with the base library and local school programs, to support the community, according to Don Riedel, Aero Club manager.
John Kingsley, a volunteer pilot with approximately 750 flight hours in various aircraft, had as much fun giving the orientation flights as his passengers had experiencing them.
"I love it," he said.  "I enjoy supporting the Aero Club every chance I get.  I love sharing the joy of flight with people who don't have general aviation experience in small planes."
One of only 17 aero clubs in operation worldwide, Eglin's club was originally established in 1958 at Field Two.  Active duty, retirees, family members, civilian personnel, base contractors and Civil Air Patrol members are eligible to join.
"Anyone who becomes a member can rent aircraft for a variety of activities: to learn to fly; go to lunch or dinner; or fly friends over the local area," said Riedel.
Shane Decker, a member of the Armament Directorate, was waiting at the end of the runway to greet his three children when they stepped off the plane after their orientation flight.
"The kids were so excited," Decker said.  "I just wanted them to get the experience.  They always ask if they'll ever get to travel anywhere on an airplane.  This was the perfect opportunity to introduce them to flying."
A pilot's license is attainable as early as high school age.  A student must be 16 to fly solo and 17 to get a private pilot's license.  The club also has authority to issue pilot certificates on site.
John Bryan, a 96th Communications Squadron member, watched his wife and daughter taxi down the runway during their flight.
"I'm thrilled to have them go up and fly around," said Bryan, who stayed behind to care for his 11-month-old son.  "It's the first time for my wife and daughter.  We've been looking forward to this."
Riedel invited eligible patrons to stop by for a visit or check out the Aero Club's ongoing activities throughout the summer and rest of the year.
"We're everybody's Aero Club," Riedel said.  "We're here to educate the base community on what an airplane is, and what it does.  We have many people who have worked on base their whole lives and have never been on the flight line.  Anyone with base access is welcome to come out and learn more about airplanes, or learn to fly them."
Article by Kevin Gaddie
Team Eglin Public Affairs
Above: Airmen 1st Class Richard Caesar and Courtney Mitchell, embrace after she accepted his midair marriage proposal, during a 20-minute Aero Club orientation flight May 25 at Eglin Air Force Base, Fla. The Aero Club also offers anyone with base access the opportunity earn their private pilot's license and many other airplane operator certifications. (Courtesy photo/Steve Rosier)