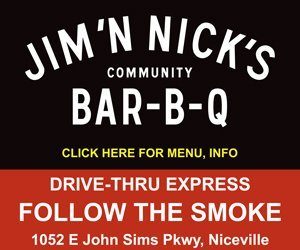 For most people, the terms marriage ceremony and wedding are interchangeable, since they usually happen at the same time. For one Airman here, that is not the case.
Senior Airman Ashley Reid, was not at her marriage ceremony. She hasn't had her wedding yet either. But, she is married.
Reid, who has been deployed with the 386th Expeditionary Civil Engineer Squadron for four months, and her now-husband Kevin were married by double proxy Oct. 28. Reid is a member of the 96th Mission Support Group while Kevin is with the 96th Aircraft Maintenance Squadron.
The Reid's, who have been together for almost two years, had been talking about marriage for a year. The plan was to wait five years and have a big ceremony in Kevin's hometown in Missouri. That changed when Kevin got orders to Spangdahlem Air Base, Germany.
"He gave me a choice," Ashley said. "I could marry him, or I could marry him."
Reid chose to marry him, and they started researching options. They considered several, from a video teleconference marriage, to a marriage over the telephone. It was a chance conversation with a co-worker that led to the double proxy option.
Double proxy means someone stands in for the bride and groom during the marriage ceremony and requires neither be present. This was particularly beneficial, since Reid is deployed and Kevin was in the middle of outprocessing for his new assignment.
"The way we were looking at it, this was just for the legal part," she said. "We weren't planning this to be our forever ceremony. So, out of all the options, this was the easiest, and it was one of the least expensive."
Once they decided on the double proxy option, they began the paperwork that would legally unite them. Through their research, they found that Montana was the only state that conducts double proxy weddings. Working with both their home-station legal office and the legal office here, they completed the required paperwork and sent it. It took about two weeks to be notified they were married, said Ashley.
Their marriage date was a surprise to them.
"The way the date works is we had no idea what day we were going to get married," she said. "It was pretty much get your certificate and say 'oh wow, we got married on the 28th!'"
While they did not get to pick the date, the Reid's will embrace it and plan to make it their special day by having their future wedding ceremony in Missouri on the same day.
"In all honesty, we had no idea what the date would be on our certificate, but we will have our ceremony on that day, mainly so we can make that day special for us," she said.
While this was not the way she pictured it growing up or how they had planned it for the last year, being with Kevin was more important to her than a big ceremony. So, although she missed her marriage ceremony, she will eventually have her wedding day.
Story by: Tech. Sgt. Jared Marquis
386th Air Expeditionary Wing Public Affairs
PHOTO (above):  Senior Airman Ashley Reid, 386th Expeditionary Civil Engineer Squadron, got married here Oct. 28 in a double proxy ceremony. Her now-husband Kevin received orders to Spangdahlem Air Base, Germany, which expedited their marriage. Both Reids are currently stationed at Eglin Air Force Base, Fla. (U.S. Air Force photo by Tech. Sgt. Jared Marquis/released)