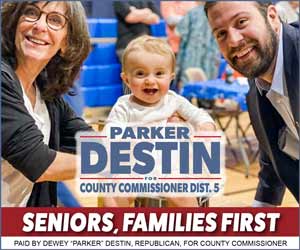 Trinity Gallery and Gifts may be slightly off the beaten path in Niceville but shoppers seeking unique gifts, art and home décor are blazing a trail to the quaint little shop that opened this past spring.
Located at 703 Powell Drive, just one block off Partin Drive, Trinity Gallery and Gifts offers art, jewelry, pottery, teas, candles, bath and body works, fishing themed wall
hangings and décor, college themed merchandise and so much more.
New merchandise is frequently stocked, making for a fresh and pleasurable shopping experience with each visit.
Owner Amy Ripley and store manager Amy Boyd take great pride in featuring the work of local artists and craftspeople, offering space where local artisans can display and sell their works away from the festival circuit.
Trinity Gallery and Gifts is the perfect choice for those looking for out of the ordinary anniversary, birthday or holiday gifts — gifts for the spirit, soul and senses —  and distinctive home décor not found at the big box stores.
Trinity Gallery and Gifts is open 10 a.m. to 6 p.m., Tuesday through Friday and 10 a.m. to 4 p.m. on Saturday. Visit their Facebook page at www.facebook.com/trinitygalleryandgifts. Phone 279-4570.