Tisano's Garlic Grill in Bluewater has been named the New Business of the Year for 2016 by the Niceville Valparaiso Chamber of Commerce.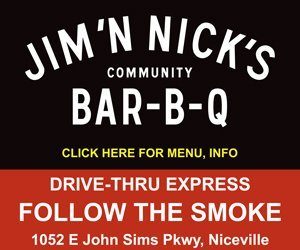 Owner Mike Tisa received the honor at the Chamber's annual awards celebration held Jan. 26 at Northwest Florida State College.
Popular with locals and highly rated by diners posting on the various restaurant review websites, Tisano's Garlic Grill features Italian food, authentic pizza and fresh seafood at its location in the Merchants Walk at Bluewater Bay, just west of Winn-Dixie. Slow roasted prime rib is served the first Wednesday of each month.
Kitchen Hours for Tisano's Garlic Grill:
Mon – Thursday: Serving from 4pm – 9pm; Full bar opens at 3pm
Fri: Serving from 4pm – 10pm; Full bar opens at 3pm
Sat: Serving from 11am – 10pm; Bar opens at 11
Sun: serving from 11am – 8pm; Bar opens at 11
Other award winners include:
Small Business of the Year – Emerald Coast Marketing & Publishing
Large Business of the Year – Walmart
Keep It Local Award – Niceville.com (Gilson Group, Inc.)
Volunteer of the Year – Debbie Elliott, Coastal Bank and Trust
You Rock Award – Mike Guidry, Reliance Test & Technology, LLC
Board Member of the Year – Steve Ruckel, Ruckel Consulting & Coaching
Chairman's Choice Award – Jeanette Shires, Mattie Kelly Arts Center
Visionary Award – Raimund Herden, Conrad Properties of America, Ltd.