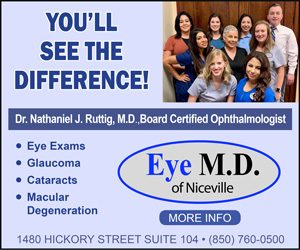 After more than a decade of innovative leadership of the Northwest Florida Symphony Chorale, NWF State College Professor of Music Lois Henry has stepped down as director of the vocal ensemble in order to assume other roles within the college's Division of Humanities, Fine & Performing Arts as well as to pursue additional professional opportunities as a composer and the region's leading concert pianist. The Chorale is a popular vocal ensemble comprised of community and college members which performs with the Northwest Florida Symphony Orchestra. Ms. Henry will continue her duties as a full-time Professor of Music at the college teaching piano, voice, and music theory and will also continue to lead the college's premier women's chorus Belle Voci.
NWF State College is pleased to announce that beginning in August, veteran Niceville High School Chorus Director Michael Dye will assume direction of the Northwest Florida Symphony Chorale as the orchestra enters its 30th season. Mr. Dye, who will begin his 27th year as choral director at Niceville High in August, has devoted many years building one of the finest high school choral programs in the nation and he holds a Master of Music Education Degree.
Dye's primary responsibility with the Northwest Florida Symphony Chorale will be to build membership of talented vocalists and prepare the Chorale for performances with the NFSO in December 2016 and May 2017.
"Taking on the leadership of the college's Chorale will be a wonderful extension of my decades at Niceville High," noted Dye. "I hope many former NHS Chorus members and singers from across our community will audition August 9 and come out for our first meeting of both continuing and new members on August 23." Dye noted that current Chorale members are not required to re-audition for a position in the Chorale and should plan to attend the first rehearsal and meeting on August 23.
Michael Dye began his teaching career at Southwest Junior High School in Hot Springs, AR before accepting a position at Dollarway High School in Pine Bluff where he served 12 years as choral director. He was state president of the Arkansas ACDA and the Arkansas Choral Directors Association. He was selected by that organization as the Director of the Year in 1989.
In 1990 Dye was named the choir director at Niceville High School. He was selected as Niceville High School's Teacher of the Year and runner-up for the Okaloosa County Teacher of the year in 2004. Mr. Dye is a member of the Florida Vocal Association where he has served as the state president and twice as the District 1 chair. He is currently the chair of the Past-Presidents and the FVA Awards Committees having also served as the all-state and state music performance chair. Dye is currently the president of the Florida School Music Association, Florida's secondary schools' music organization that oversees the interscholastic concert performance assessments of choruses, bands, and orchestras at the district and state levels. In 2013 he conducted the Florida All-State Men's Chorus. Next February Dye will conduct the 2017 Arkansas All-State Female Chorus.
Dye is also a member of the American Choral Directors Association, the Florida Music Education Association and the National Association for Music Education. His Niceville Singers have toured and performed in the Czech Republic, Austria, Germany, Scotland, Wales, England, Italy, Spain, China and France and sung in Carnegie Hall three times. Dye is an active clinician and adjudicator.
Dye is married to Wanda Thomas Dye. They have two sons, Dr. Matthew Norton of Pensacola, and the Reverend Timothy Norton of Peach Tree City, GA.
CHORALE AUDITIONS – NEW MEMBERS AUGUST 9 at 6:00 pm – All prospective new Chorale members are invited to an open audition and info session, Tuesday, August 9 at 6:00 pm, Tyler Recital Hall, Mattie Kelly Arts Center, Northwest Florida State College, Niceville. Bring a one minute solo appropriate for the voice to be used in the Chorale. Bring sheet music for accompanist if necessary or sing A Capella. Callbacks and an alternate audition is August 16. Contact Phyillis Lake at lakepa@cox.net for audition scheduling.
CHORALE – FALL 1st REHEARSAL & Fall Info Session – August 23 6:30 pm, Tyler Recital Hall, Mattie Kelly Arts Center at the Niceville campus of Northwest Florida State College. All current and new prospective chorale members.