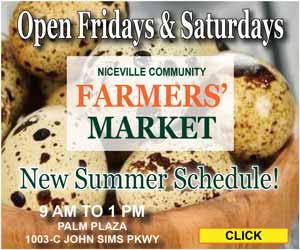 The Northwest Florida State College Student Government Association on May 4 presented a donation of $336.71 to Panhandle Warrior Partnership, an organization that supports and assists local veterans.
SGA members collected the money with a pie-in-the-face fundraiser during the college's Spring Fling celebration in March. Dan Verda, executive director of PWP, thanked the SGA for the donation.
"It's going to a good cause — it's to help people. We take care of our own folks. On their behalf I thank you," Verda told the SGA members, adding, "We especially appreciate those who took a pie in the face for us."
Shown holding the check are SGA President Alijah Veneszee of Crestview (second from left) and Verda (second from right). At left, SGA vice president Stefan Makarov of Fort Walton Beach holds a certificate of appreciation presented to the SGA by Panhandle Warrior Partnership. Also pictured from PWP are Case Coordinator Jennifer Luchak and Associate Executive Director Wade Wilmoth.
Other SGA members pictured, all wearing red, are Ruvi Maldonado of Fort Walton Beach, LeighAnn Bilton of Niceville, Harrison Blount of Miramar Beach, Carson Wilber of Crestview, Collin Zeigler of Mary Esther, Shayna Clay of Crestview, Drew Hannah of Navarre, Marley Burch of Samson, Ala., and Joe Wilmoth of DeFuniak Springs. Also pictured is SGA advisor Sam Hill.