Southern Breeze Healthcare offers a comprehensive array of healthcare services and accepts most major insurance. It is headed by Certified Physician Assistant Gary Bullard.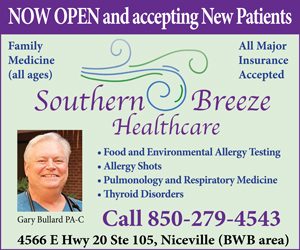 Southern Breeze Healthcare, a family medicine practice in Niceville headed by Certified Physician Assistant Gary Bullard, is now open and accepting new patients.
"I would be honored to be your healthcare provider, and I'm committed to providing you with the best care available in the Panhandle of Florida," said Bullard, who formerly served patients at Southcoast Allergy in Niceville.
"It's my hope that we can have a relationship where the lines of communication are open, where your medical care is accessible and cost-effective; and where it is all about you."
At Southern Breeze Healthcare, Bullard offers patient-centered, evidenced-based medical expertise, opinions, and recommendations.
Bullard has served thousands of patients over his 20+-year career as a PA.
He graduated Cum Laude from Kettering College of Medical Arts, Kettering, Ohio, in 1997, and has worked throughout the United States as his wife fulfilled her Air Force commitments.
Bullard has held licenses in Alabama, Ohio, Wyoming, Illinois, and Colorado, and maintains active licenses in Florida and North Carolina. He is a nationally certified PA with the National Commission on Certification of Physician Assistants (NCCPA) and maintains Basic Life Support (BLS), Advanced Cardiac Life Support (ACLS), and Pediatric Advanced Life Support (PAL) certifications.
Southern Breeze Healthcare accepts most major health insurance such as TRICARE, Aetna, Cigna, BlueCross Blue Shield, Humana, Medicare, and United Healthcare.
Bullard and his team of healthcare professionals offer a comprehensive array of healthcare services to patients such as
Family Medicine, Newborn to Geriatric
Food Allergy Testing
Environmental Allergy Testing
Allergy Injections
Physicals
Thyroid Disorders
Pulmonary & Respiratory Medicine (COPD, Asthma)
Skin Exams
Skin Biopsies
Joint Injections
Trigger Point Injections
Small Lacerations or Minor Injuries
Walk-in STREP, FLU, & UTI Tests
EKGs
Pulmonary Function Tests (PFTs)
Southern Breeze Healthcare is at 4566 E Hwy 20 suite 105.  Hours are Monday-Thursday, 7 a.m. to 12 p.m. and 1 p.m. to 5 p.m.; Friday, 7 a.m. to 12 p.m.
Call 850-279-4543 or visit its website to make an appointment or for more information.