"It's a great day for VPS and our community," said Okaloosa County Airports Director Tracy Stage. "We are delighted to welcome Silver Airways to the family and expect the new daily, direct inner-state service to Orlando International Airport (MCO) to be a success."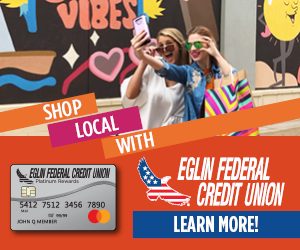 NICEVILLE, FLA — Silver Airways newly-painted military-themed aircraft "Bravo Zulu" took its first flight Friday on the airline's new daily nonstop service between two historic U.S. Air Force bases – Destin-Fort Walton Beach Airport, located within Eglin Air Force Base, and Orlando International Airport, formerly McCoy Air Force Base.
The plane is a salute to the dedicated men and women of the U.S. Armed Forces who have selflessly given of themselves to protect us all and those who continue to serve our country. The Saab 340 was officially named "Bravo Zulu," a long tradition and widely-used phrase throughout the military for a job well done. The messages "Saluting Service Members" and "All Gave Some – Some Gave All" is also inscribed on the plane.
"As Silver Airways starts new service between two important military communities ahead of Memorial Day, we are proud to unveil 'Bravo Zulu' as our tribute of appreciation to veteran and active-duty members of the U.S. military in salute of their tireless dedication and sacrifices in serving our country," said Silver Airways CEO Steve Rossum. "To all who have served, to all who have given their lives, and to all who continue to serve, we thank you."
"It's a great day for VPS and our community," said Okaloosa County Airports Director Tracy Stage. "We are delighted to welcome Silver Airways to the family and expect the new daily, direct inner-state service to Orlando International Airport (MCO) to be a success."
"We are pleased that Silver Airways has decided to join us at VPS, the fastest growing airport in the United States," said Okaloosa County Commissioner Carolyn N. Ketchel. "This direct route to Orlando is a result of the most requested route by the public and will service especially the business traveler who flies to Orlando from the panhandle."
To celebrate the new nonstop service between Orlando and Destin-Fort Walton Beach, Silver is offering fares from $99* available at silverairways.com for a limited time for travel on or before June 20, 2019, for ticketing before May 22, 2019.
During today's inaugural festivities at Destin-Fort Walton Beach Airport, Silver Airways also presented a donation to the Invisible Wounds Center, which serves as a regional treatment center for post-traumatic stress, traumatic brain injury, associated pain conditions and psychological injuries.
"The Invisible Wounds Center is extremely grateful for the generous donation from Silver Airways and we appreciate their lead in demonstrating community support and concern for our patients suffering from the invisible wounds of service, including traumatic brain injury, post-traumatic stress and pain," said Invisible Wounds Center Site Director/Medical Director Dr. Thomas R. Piazza, MD, MPH. "Silver Airway's compassionate support of our service members from all military services and ranks will directly improve the quality and environment of care for these individuals."
Silver Airways' Orlando (MCO) – Destin-Fort Walton Beach  (VPS) service effective May 16, 2019, and Destin-Fort Walton Beach – Orlando effective May 17, 2019:
Route
 Departs
Arrives
Flight #
Stops
Frequency
Orlando to
Destin-Fort Walton
6:55 pm
8:01 pm
141
0
Daily
Destin-Fort Walton
to Orlando
7:21 am
10:05 am
140
0
Daily
Silver Airways serves a large number of military communities throughout its Florida network and beyond. In addition to connecting Northwest Florida to Central Florida, this new service also provides convenient connections to Silver's extensive network throughout the Sunshine State, the Bahamas and beyond.
The airline also offers a discount for active-duty military (and their spouse and children) traveling for leisure on all Silver Airways flights, including members of the U.S. Army, Navy, Air Force, Marines, Coast Guard, National Guard and reserve personnel on active duty status.
About Silver Airways
Silver Airways operates the most routes within Florida and between Florida and the Bahamas from its hubs in Fort Lauderdale, Orlando and Tampa, and also flies between Boston and Bar Harbor, Maine. Silver is the official airline of the Minor League Baseball team Daytona Tortugas and the Pensacola Blue Wahoos. In addition, Silver owns and cooperatively operates Seaborne Airlines with flights in Puerto Rico, the Virgin Islands and the Caribbean. Silver is a codeshare partner with United, JetBlue and Avianca, and has interline agreements with American, Delta, Air Canada, Alaska Airlines, All Nippon Airways, Bahamasair, Hahn Air, Azul and Emirates. Members of United's MileagePlus® and JetBlue's TrueBlue loyalty programs can also earn frequent flyer awards for travel throughout Silver's network. Silver operates a fleet of highly-reliable Saab 340 aircraft and is also currently renewing and expanding its fleet with up to 50 new eco-friendly ATR-600s. Silver is honored to be the North American launch customer for the all new, redesigned ATR-600 offering best-in-class quiet cabins, premium leather seats with more legroom, and spacious overhead bins that accommodate full-size, carry-on roller bags. Silver is owned by affiliates of Philadelphia-based investment firm Versa Capital Management, LLC. To learn more about Silver's refined passenger experience, visit SilverAirways.com/atr42.