EGLIN AIR FORCE BASE, Fla. — Less than two years ago, Senior Airman Terrence Ruffin became the youngest bodybuilder to become a professional.  Now with five pounds of extra muscle added and a professional contest win, he plans to reach to new heights when he ascends the stage at the largest bodybuilding competition in the world… Olympia.
On Sept. 17, Ruffin will contend in the Classic Physique division at bodybuilding's highest level.  At age 22, he'll be the youngest to ever compete.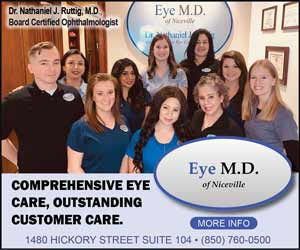 "This is a huge opportunity for me," said the five-foot-five-inch Airman.  "Just competing at Olympia raises a bodybuilder's profile to another level.  Then if I place or win, it would be amazing."
A misconception with bodybuilding Ruffin wants to put to rest is that it's a weightlifting competition.  There are weights involved with the training, but according to Ruffin, it is an all-encompassing lifestyle.  It is about getting one's body to look its absolute best.  A commonly-made comparison is the athletes sculpt their bodies similar to how artists shape clay or rock to create a statue of perfection.
"I believe bodybuilding at its core is about continuous self-improvement and creating works of art," said Ruffin.  "In the past, bodybuilders posed in great art museums.  My goal is to bring back that time period with a modern twist."
Just after turning professional in late 2014, Ruffin, an avionics Airman with the 16th Electronic Warfare Squadron, saw a difficult road ahead to compete in the then-current bodybuilding categories.  He faced increasing his weight in muscle by more than 10 pounds to be competitive in the 212-pound and under division, while still meeting the Air Force physical fitness standards.  However, in 2015, the International Federation of Bodybuilding and Fitness created a new division called Classic Physique that fit his body type and weight.
The division allows any bodybuilder to enter, but competitors must meet strict weight limits based upon their height.  This worked perfectly for Ruffin, who along with being one of the youngest is also one of the shortest professionals as well.
"That (new division) was a great relief," said the soft-spoken, bespectacled Airman, who also has 16-inch biceps.  "I was still hesitant about competing though with so much going on."
Even with the "ready-to-compete" division, he held off beginning his professional career and continued to grow and sculpt his body. He did this while also serving a tour on the Team Eglin Honor Guard and settling in to married life.
After 20 months, Ruffin and his professional trainer, Matthew Porter, felt he was ready for his first professional bodybuilding competition.  He earned a third place in a small Boca Rotan competition.  He said a combination of nerves and the lengthy layoff were factors in the outcome.
"I spoke with the judges afterward and I knew I didn't need much to get to where I needed to be," said the Alabama native.
He reached his potential only six days later, winning at a larger competition in Tampa against many of the same bodybuilders he'd faced just a week earlier.  In only his second event, Ruffin claimed his first professional victory.  The win earned him a guaranteed spot at Olympia in Las Vegas.
"Terrence is absolutely 100 percent ready," said Porter.  "He understands he has a God-given talent of innate genetics that truly sets him apart from the competition. He also recognizes his gifts and is extremely level-headed and mature, understanding he needs to capitalize on this new Classic Bodybuilding division that literally was tailor-made for him."
After the win, Ruffin got a lot busier.  He said upon turning professional, the sponsorship offers weren't what he'd expected.  But after his first professional win, deals began to arrive.  He currently has two sponsorships.
While preparing to compete, Ruffin also began training bodybuilding up-and-comers online.  He currently provides dieting and workout instruction to approximately six amateurs.
"It is a really good feeling seeing them improve based on my recommendations," said Ruffin.
The bodybuilder's Air Force future is still 'up in the air,' with less than a year to go on his enlistment.
He said he plans to pursue the Air Force Reserve to continue serving, but he wants to focus on bodybuilding and training others full time.
With Olympia only a week away, Ruffin's future plans are secondary as he focuses on preparing his body for his biggest contest yet.
"I always wanted to go and just watch (Olympia) and now here I am competing," said he said.  "Many of my competitors I've only watched or seen in magazines and now I'll be on stage with them.  I'm confident I'm going to compete very well."
Regardless of win, lose or place at Olympia, Ruffin's trainer believes in him and sees a great future for the young bodybuilder.
"He has a good head on his shoulders," said Porter.  "He is very respectful and mature, which translates into a bodybuilder for others to look up to and emulate. (Those traits) equal a wonderful ambassador for the sport of bodybuilding."
Story and photos by Samuel King Jr., Team Eglin Public Affairs
Photo (Top): Senior Airman Terrence Ruffin, 16th Electronic Warfare Squadron, strains for an extra rep on a weight machine at the fitness center on Eglin Air Force Base, Fla. Ruffin, currently the youngest professional bodybuilder on the circuit at age 22, will compete at the largest bodybuilding competition in the world Sept 17.