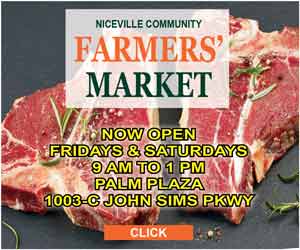 The Niceville Young Professionals (NYP) presented Staci Berryman, Executive Director of the Emerald Coast Autism Center with art supplies, toys, and other donations collected by the group in the month of June. Berryman joined the groups monthly lunch meeting and gave an update on the new Emerald Coast Autism Center building and community playground project.
NYP members also committed to help fill some of the 300 community volunteer spots needed to build the schools playground August 24-28 at their new location on the Northwest Florida State College Niceville campus. Additional skilled and unskilled community volunteers are still needed for the project. Please call the Emerald Coast Autism Center at 850-279-3000 for more information.
Throughout the month of August NYP members will participate in the Tools for School Drive collecting items for Sharing & Caring of Niceville. Suggested donations include backpacks, notebooks, crayons, pencils, glue, scissors, markers, highlighters and lunch boxes. Items can be dropped off at the Niceville Valparaiso Chamber of Commerce during normal business hours.
Niceville Young Professionals is currently accepting new members, information on the group can be found on the Niceville Young Professional's Facebook page. NYP is an emerging group of young professionals committed to making measurable and significant impacts in both their personal and professional lives, as well as in the Niceville and Valparaiso communities.