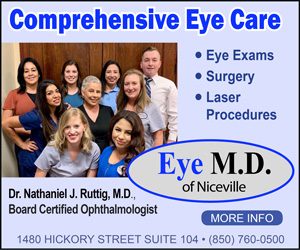 Niceville's Mimi Taylor has been named the 2016 Distinguished Young Woman of Florida. The 17 year-old Niceville High School senior earned the state title at the Distinguished Young Women of Florida program held Jan. 9 in Winter Park.
Distinguished Young Women is a national scholarship program that inspires high school girls to develop their potential while giving them the opportunity to further their education.
This past July, Taylor was named Okaloosa County Distinguished Young Woman of 2016. As Florida's Distinguished Young Woman, she will represent the state in the national Distinguished Young Women program to be held Mobile, Ala., in June.
In addition to winning the state title, Taylor won other scholarship awards, such as the Be Your Best Award.
The following scholarships were awarded at the state program:
— Be Your Best Self Award – Mimi Taylor
— The Spirit of DYW Award – Lauryn Bosse
— The Self-Expression Preliminary Awards: Zainab Hageldain, Mimi Taylor, and Abbey Oshman
— The Fitness Preliminary Awards: Abbey Oshman, Mimi Taylor, and Taylour Marks
— The Talent Preliminary Awards: Haley Horton, Te'a Creamer, and Victoria Fields
— The Scholastic Preliminary Awards: Mimi Taylor, Haley Horton, and Michaela Poitevien
— The Interview Preliminary Awards: Mimi Taylor, Taylour Marks, and Megan Alsene
— The 2nd Honoree: Haley Horton
— The 1st Honoree: Taylour Marks
— The DYW of Florida 2016: Madison "Mimi" Taylor