Fireworks will light up the night in Niceville on July 4, 2019 beginning at dusk.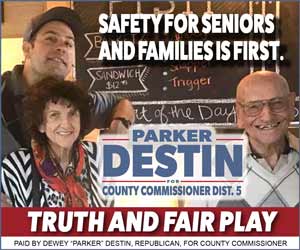 The 2019 Niceville July 4th fireworks display is on the Fourth of July beginning at dusk.
Colorful, booming fireworks will burst, crackle and pop over Boggy Bayou after being launched from Niceville's custom-made barge anchored in the bayou between Lincoln Park in Valparaiso and Lions Park in Niceville.
It has long been considered by many to be the top Independence Day fireworks display in all of Northwest Florida, drawing thousands of locals and visitors alike.
The fireworks begin shortly after dark; typically about  8:45 p.m. It is best to arrive early to avoid traffic.
Pre-show music blasted from huge speakers on the barge can be heard from the shores of the bayou and throughout much of the community. It begins around 6 p.m.
Niceville's spectacular fireworks display is one of the longest-running in the area. More than a ton of fireworks will be rocketed into the sky, and the show always includes an explosive, crowd-pleasing finale.
Year upon year, the Niceville fireworks show only seems to gets bigger and better.
In addition to Lincoln Park, Lions Park, other popular public viewing sites are Shipyard Point Park in Valparaiso and Kiwanis Park in Niceville. Parking is limited. [See our July 4 fireworks Viewing Map here]
The annual fireworks show costs about $25,000. It is funded each year by individual and corporate donations, fund-raising events, t-shirt sales, aluminum can recycling, pork butt sales and the interest earned on the monies in the Fireworks Trust Fund established in the 1980s by realtor Pat Hemby.
Current members of the Fireworks Trust Fund are:
Gail Arke
Sheila Bishop
Patsy Bland
Judy Boudreaux
Lannie Corbin
Linda Dwyer
Debbie Elliott
Matt Floyd
Brenda Franco
Scott Jackson
Valerie Manley
Lavon Mason
Don Ory
Carl Scott
Kim Stevens
Dave Swanick
Paul Tauscher