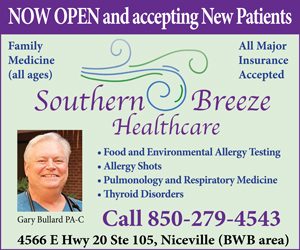 Niceville Florida has once again topped a list of the nicest places to live in Florida. The website Onlyinyourtstate.com has named Niceville as Florida's cheapest and greatest place to live. Valparaiso was named number two in the state.
Here's what the website has to say about Niceville: "This city of around 13,000 people located in the Panhandle really lives up to its name. The cost of living and gasoline are below the average for the state, and the crime is much lower. Though the student-to-teacher ratio is high, the high school graduation rate is still 8% higher than the rest of the state. Niceville hosts the annual Boggy Bayou Mullet Festival in October, which is a great time to go check the city out."
In describing Valparaiso, the website states: "Valparaiso is a small city in northwest Florida. It boasts a crime rate about 70% lower than the rest of the state, a lower-than-average cost of living and cost of gas, along with a 9% higher graduation rate."
Onlyinyourstate.com used statistical data to identify towns that are affordable (for our state) and much safer than most places in Florida.
The image used by Onlyinyourtstate.com to represent Niceville came from our sister website, VisitNiceville.com. The Niceville Digital Network is proud to promote Niceville with our family of websites which include Niceville.com, VisitNicevile.com, MyNiceville.com (newcomer guide), and MulletFestival.com.
For more information, visit Onlyinyourstate.com.