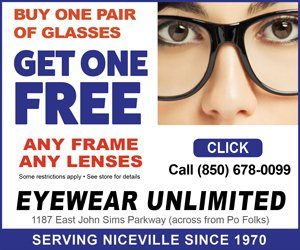 The City of Niceville is one of the country's 25 most affordable cities in which to live, according to a report released today by scratchwireless.com.
The list is based upon a city's cost of living index, recreation departments and organizations that provide a broad range of activities, access to decent educational systems and high graduation rates, low crime rates, and better than normal employment opportunities.
The 25 cities that made the list are ranked in no particular order. Niceville is the only city in Florida to make the list.
"With a name like Niceville, FL, it is hard to imagine that people wouldn't want to live in this Florida city," writes scratchwireless.com.
The reports states that Niceville's cost of living index is a 96 (slightly below 100, which is average), and its weather, crime rates, education, and amenities all earn high marks.
The report noted Niceville's close proximity to Eglin Air Force Base and went on to say, "With a number of schools, churches, local businesses, and family organizations that include sports, youth organizations, and recreation facilities, Niceville, FL is an affordable place to live that offers a wealth of activities for residents of any age."
Other cities that made the list include Pocahontas, Ark., Maricopa, Ariz., Denison, Iowa, Taylorville, Ill., Middletown, Ky., Wayne, Neb., Madeira, Ohio, Edmond, Okla., Fox Chapel, Pa., Raton, N.M., Lake Charles, La., Jefferson City, Mo., West Seneca, N.Y., Brookhaven, Miss., Blythe, Calif., Battle Creek, Mich., Taylor Lake Village, Tex., Kingston, Tenn., Frostburg, Md., Great Falls, Mon., Logan, Utah, Martinsville, Va., Oshkosh, Wis., and Waterville, Maine.
Interest in Niceville grows each year according to the publishers of myniceville.com, the online newcomer guide for Niceville. Based on site statistics and searches, the Niceville area is of particular interest to would-be residents from New Orleans and Houston.
Read the complete article at scratchwireless.com/pad/top-25-most-affordable-cities/