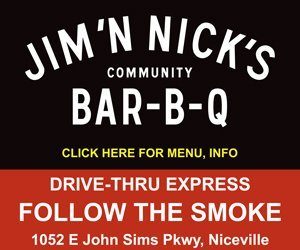 Looking for the 2016 Fourth of July info? Click on the link below!
The 2014 July 4 fireworks show in Niceville will be held on Friday, July 4, 2014. The hugely popular annual fireworks show will begin at dusk (between 8:30 p.m. and 8:45 p.m.).
Pre-show music will begin around 8 p.m. Fireworks will be launched over Boggy Bayou from a barge located between Lincoln Park in Valparaiso and Lions Park in Niceville.
The spectacular fireworks display is one of the largest in the area. More than a ton of fireworks will be fired. The show is expected to be bigger and better than last year. The 22-minute-long display has about 10 percent more fireworks than in 2013.  The finale will feature 8-inch shells fired over a radius of about 1,600 square feet.
The best places for public viewing of the annual fireworks show are Lincoln Park in Valparaiso, Lions Park in Niceville and the Turkey Creek area in Niceville. Parking is limited.
The annual fireworks show is funded by donations, t-shirt sales, aluminum can recycling, pork butt sales and the Fireworks Trust Fund. The 2014 display cost approximately $25,000.