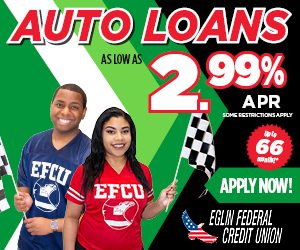 The Exchange Club of Niceville continued their great support to Children in Crisis by presenting a $1,000 donation to help feed, clothe and care for the children living at the CIC Children's Neighborhood.  The $1,000 annual donation qualifies them as a member of the CIC Kid's  Club.
Additionally, the membership donated a mountain of paper products for the CIC foster homes.  This is one of the most used items in caring for the children.
Ken Hair, CIC President & CEO commented, "We have been blessed with great support from the community to build the CIC Neighborhood.  However, it's a struggle to find the necessary funding to feed and clothe the kids and sustain operations into the future.  Support from the Niceville Exchange Club is a tremendous help in our efforts to provide a safe haven to the abused, neglected and abandoned children that don't have a home."
The Exchange Club is a national organization that focuses on reinforcing American values, building leaders for tomorrow, and protecting America's children from harm.
The CIC Neighborhood is a beautiful facility, built by the generous support of the community.  It has an emergency shelter for children who are removed without notice from an unsafe environment, family foster homes for young children and two teen transition homes for foster children aging out of care.  To learn more about Children in Crisis call 850-864-4242 or visit www.childrenincrisisfl.org.
Photo left to right:  Ken Hair, CIC President & CEO receives a $1,000 donation and a mountain of paper products from Paul McShane, Niceville Exchange Club President.