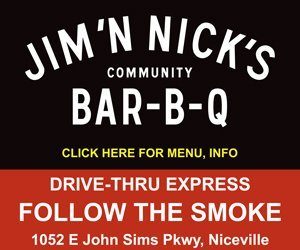 The 2014 Relay for Life of Niceville Valparaiso Kickoff party will be Tuesday, Oct. 21 at 6 p.m. in the Niceville Community Center. Teams, survivors, caregivers and anyone who wants to be a part of Relay should come ready to find out the theme and dates for the event as well as lots of ways to participate.
Bring candy for the Christmas parade and get spirit points for your team. For questions, call Marcia Sanders at 850-324-4930 or email NVRelay4Life@yahoo.com.
Relay for Life events, which raise money for the American Cancer Society, are held in more than 4,500 communities in 21 countries each year. Teams comprised of family, friends and community members participate in the events by taking turns walking to honor and remember those battling cancer. The Niceville-Valparaiso Kickoff party will provide guests with the opportunity to learn more about becoming involved in the local event – whether it be by joining the planning committee, making a donation or registering a team.
The Niceville-Valparaiso community event is being organized by volunteers from the community under the direction of Beth Anne Woods. We hope that the event will encourage more community members to become involved in the Relay for Life.