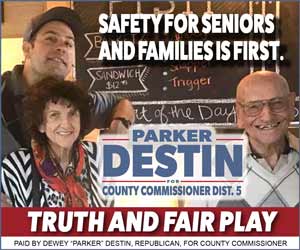 The Niceville Valparaiso Chamber of Commerce, Mattie Kelly Arts Center and 99 Rock invite you to join them at Northwest Fest on Thursday, May 12 at 6 p.m. for a live outdoor concert. The event features popular local bands Heritage, The Rips and The Okaloosa Sound performing at the Northwest Florida State College outdoor amphitheater in Niceville. 99 Rock's Woofy Ramone will be the onstage host for the evening. Food vendors during the event are BIG Red Truck and Pita Pit. Beverages will be available with Classic Catering.
Admission is only $10 with open seating either in the amphitheaters fixed seats or on the events lawn-bring your own chair or blanket.
For tickets call or click for tickets from the college's Mattie Kelly Arts Center Box Office at (850) 729-6000 or by web at www.MattieKellyArtsCenter.org. Tickets will be available at the gate starting at 5 p.m. for the same price.
The Reggae/Rock/Beach/Surf band HERITAGE has headlined hundreds of shows and served as support for national acts such as ZZ Top, Rebelution, 311, Ballyhoo and more. The Heritage sound is a mix of soulful roots reggae, rock, so-cal dub, and Hip Hop. Rising from the back yards of Okaloosa County, Florida, Heritage delivers an energetic and positive show that will move all ages and genres! The band broke into the pop/reggae scene in 2009 with their debut album, Natural High and in 2012 Heritage released its second full-length album, "Out Here…".
The Rips sound resembles an old vinyl from the 50's or 60's, with their vintage guitar tones, smooth melodies, and catchy grooves! The Rips are an emerging 3-piece vintage surf rock band from Destin.
The Okaloosa Sound is an exciting ensemble that features amazing talent from an array of musical disciplines. Whether you like funk, rock, soul, jazz or all of the above, The Okaloosa Sound will make you move! The band was formed last year and has already become a popular staple at venues across Northwest Florida.