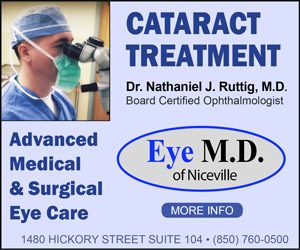 Want to help make Christmas merrier for some children and their families in need this year? The Emerald Coast Children's Advocacy Center's (ECCAC) annual Adopt-A-Family program is underway. The ECCAC is seeking donors who will purchase gifts for individual families who have been identified by the Center. Last year, the program helped 261 children have a brighter Holiday.
Simply contact ECCAC and select a family from the list, shop for them, and bring unwrapped gifts by December 14, or sooner to the Niceville center.
ECCAC's mission is to prevent child abuse and neglect, protect children in Okaloosa and Walton Counties, and restore the lives and futures of these impacted children. The Center's child-friendly facility in Niceville houses a multidisciplinary team of child protection personnel, prosecutors, law enforcement, DCF, therapists, and ECCAC staff and volunteers. Services are provided at no cost by ECCAC, a 501-C-3 non-profit organization.
To make arrangements to Adopt-A-Family, call 850-833-9237, or email Katie Crowell at katie@eccac.org.
The Emerald Coast Children's Advocacy Center in Niceville is located at 401 McEwen Drive.
About Emerald Coast Children's Advocacy Center
The Emerald Coast Children's Advocacy Center (ECCAC) provides services to help identify, treat and support children in abusive situations. The organization helps prevent child abuse through education, protects child victims from future abuse, and provides resources to restore the lives of the child and the child's family. The Center is a non-profit organization located in Niceville, Fla. It serves Okaloosa and Walton counties and houses representatives from the Florida Department of Children and Families, Child Protection Team, State Attorney's Office, local law enforcement, and licensed mental health counselors. For more information or to support the Emerald Coast Children's Advocacy Center please visit http://www.eccac.org. If you suspect abuse, call the Florida Abuse Hotline 1-800-96-ABUSE.