What may be the most anticipated retail event of 2015 in Niceville will take place on Tuesday, July 21: The opening of Grocery Outlet, Niceville's newest grocery store.
No time has been set for the opening of the new Palm Plaza store but according to Rick Webster, store manager, Grocery Outlet will begin serving customers sometime tomorrow. Once open, its regular operating hours will be 7 a.m. to 9 p.m., seven days per week.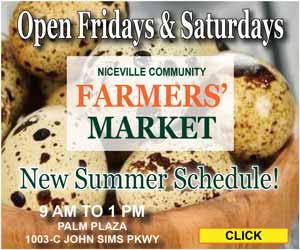 Grocery Outlet, which is based in Dothan, Ala., has been in operation for about 30 years. The discount grocery store does not have weekly specials like most supermarkets. Instead, it features everyday low prices, selling groceries, meats and produce under a "cost plus" format, where customers pay the cost of items purchased plus 10 percent.  There are about a dozen Grocery Outlet locations concentrated in Florida, Georgia and Alabama.
The Niceville location of Grocery Outlet is the former home of Food Depot, and before that, Kelley's SuperValu Foods. While the location is the same, the store itself is not. The building has been completely renovated, both inside and out, and has a new, modern look and feel. The work has taken about eight months to complete.
Webster said he has hired about 40 employees and is still hiring cashiers, stockers and meat department workers for the new Grocery Outlet. Interested persons should apply at the store.
Grocery Outlet is located at 1015 John Sims Pkwy E. in Niceville (adjacent to the intersection of John Sims Parkway and Palm Boulevard).