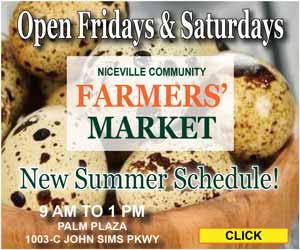 "Geek Lights on the Corner 2014," a popular Niceville Christmas lights display and music show, will be held  December 1, 2014 through January 4, 2015.  The free performances take place at the corner of Bluewater Boulevard and Antiqua Way in Bluewater Bay.
Shows begin on the hour and half hour starting at 6 p.m. with the last show starting at 9:30 p.m. Sunday-Thursday, and at 10:30 p.m. on Fridays and Saturdays.
The Geek Lights consists of Christmas lights and other themed display elements, all under computer control and synchronized to stories and music. This year's display features approximately 85,000 lights, driven by nearly 300 computer controlled circuits. There is an all-new story to open the show, and many fan favorite songs from past seasons will return. In addition, there will be a few songs added to the repertoire, and guests should always be prepared for a surprise.
2014 marks the 7th year for Geek Lights on the Corner.
The Geek Lights on the Corner has announced the selection of the Junior League of the Emerald Coast as this season's donation recipient. There will be a cash collection box in the viewing area throughout the season, with 100% of the money collected going to support JLEC's Child Clothing Project.
"We at JLEC are honored that Geek Lights and the Niceville community would be willing to support us," said Carly Harmer, President of the Junior League of the Emerald Coast. "This year we clothed 330 children from Okaloosa and Walton Counties.  We hope that in 2015 we can increase that number and continue to make an impact in these children's lives."
The Geek Lights on the Corner are the technical wizardry of Jeff Werner, the "Northwest Florida Geek" and Wendy Werner, his "Spouse Peripheral." Jeff is author of the weekly computers and technology Q&A feature "It's Geek to Me," which appears on Saturdays in the Northwest Florida Daily News, online at ItsGeekToMe.co, and in other newspapers across the country