Geek Lights Bluewater lighting up the night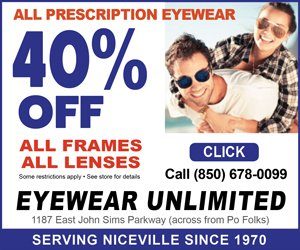 Geek Lights on the Corner Christmas lights and music show in Bluewater contnues through Jan 1.
The free performances take place at the corner of Bluewater Blvd and Antiqua Way in Bluewater Bay. Geek Lights on the Corner shows begin on the hour and half hour starting at 6:00 PM, with the last show starting at 9:30 PM Sunday-Thursday, and 10:30 PM on Fridays and Saturdays.
The Geek Lights Bluewater show consists of Christmas lights and other themed display elements, all under computer control and synchronized to music.  Each show opens with a story to set the mood, followed by 25 minutes of music and dancing lights. This year marks the show's 9th season.
The Geek Lights on the Corner is pleased to announce the selection of the United Service Organization (USO) Northwest Florida as this season's donation recipient.  There will be a collection box in the viewing area throughout the season, with 100 percent of the money collected going to support the USO's mission.
"USO Northwest Florida is excited to be the sponsored recipient of this year's Geek Lights on the Corner event," said Diane Freeman, USO Center Operations Supervisor. "We are always looking for partnerships that benefit both and love when we can create local friendships.  Being part of a wonderful home town effort during the holiday season is a unique opportunity for our organization and we are very appreciative. The true winners will be the military members and their families that we provide to, thanks to the support and generosity of the individuals that will visit the Geek Lights display."
The Geek Lights Bluewater show is the technical wizardry of Jeff Werner, the "Northwest Florida Geek" and Wendy Werner, his "Spouse Peripheral".  Jeff is author of the weekly computers and technology Q&A feature "It's Geek to Me," which appears on Saturdays in the Northwest Florida Daily News, online at ItsGeekToMe.co, and in other newspapers across the country.
You can follow the progress of the Geek Lights Bluewater display, and get up-to-the-minute schedule information on the show's Facebook page.