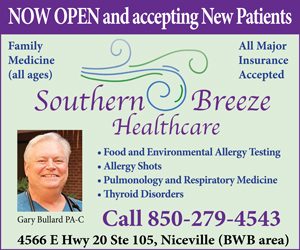 A free "Vive la France!" concert featuring the Northwest Florida Symphony Chorale, Madrigal Singers and Belle Voci women's ensemble of Northwest Florida State College, as well as performance by a distinguished guest organist, will be held Saturday, March 7 at 7:30 pm at St. Paul Lutheran Church in Niceville. The concert is free of charge with donations accepted at the door.
The concert will feature the Chorale performing the Fauré Requiem, as well as the Madrigal and Belle Voci vocalists, accompanied by David Friberg on the organ. Friberg will also perform the solo organ work Carillon de Westminster by Louis Vierne. Additionally, the concert includes the college vocal groups presenting the works of French composers Gounod and Duruflé which they will sing this summer in France as part of a Sister City tour. Donations accepted at the door will go to help support the students' upcoming France trip.
David Friberg is a distinguished guest organist from Tennessee who is a former professor and mentor to NWFSC State College music faculty member Lois Henry, who conducts the college vocal groups that will perform at the concert. Friberg has served as chairman of the Department of Music at Covenant College and as the accompanist for the Chattanooga Choral Arts. He previously also served as organist at the Pentagon in Washington, D.C., Chairman of the Fine Arts Division of Bryan College in Dayton, Tennessee, and Chairman of the Organ Department at Bob Jones University in Greenville, South Carolina. Friberg was privileged to be an artist/fellow with the Bach Aria Summer Festival in Stonybrook, New York and participated in the Westfield Center's Bach Organ Tour of eastern Germany, playing some of the organs on which Bach had performed.
St. Paul Lutheran Church is located at 1407 East John Sims Parkway in Niceville across from Publix. "St. Paul's has previously hosted NWF State College choral groups in popular holiday performances of "Messiah" and we are grateful that they are opening their sanctuary and magnificent organ again for this new event," said Lois Henry.
NOTE: The March 7 "Vive La France" concert replaces a previously announced faculty piano recital that had been scheduled to feature Henry in solo performance in the college's Tyler Recital Hall. Ms. Henry will perform later in the year at a date to be announced.
For information on the concert or the performance groups, contact the college's fine & performing arts division at 729-5382 or Lois Henry at 729-6009.
CONCERT PROGRAM:
Un cantique nouveau (Lois Henry)- Madrigal Singers and Belle Voci
Da pacem (Charles Gounod) – Belle Voci
Carillon de Westminster (Louis Vierne)- David Friberg, organ
Ubi caritas (Maurice Duruflé) – Madrigal Singers
Sanctus from St. Cecilia Mass (Charles Gounod) – Jeremy Ribando, tenor; Chorale, Madrigal Singers, Belle Voci
Requiem (Gabriel Faure)- Soloists: Katie Pickler, Paul Tessier, Garrett Carpenter, Joe Wilmoth – Northwest Florida Symphony Chorale
PHOTO (top): Belle Voci women's ensemble