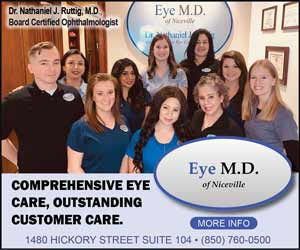 The Exchange Club of Niceville will host a "Field of Valor" at the City of Niceville Mullet Festival grounds, June 7-14. Admission is free.
The Field of Valor is a tribute to the 343 fallen heroes (since 9/11/11) from the State of Florida who have paid the ultimate price in our continued war on terror. The 343 large American flags, posted atop 8-foot poles, will be displayed in perfect rows and columns in the grassy field at the Mullet Festival grounds.
Each flag will bear the name of the serviceman or woman who gave their life in the current conflict in Afghanistan and Iraq.
The flags will be arranged alphabetically by last name. Attendees and visitors will be able to pay their respects and honor the heroes from the State of Florida.
The opening ceremony will be held June 7, 10 a.m. Guest speakers include Army Col. Robert Kirila with the 7th Special Forces Group (Airborne), Air Force Maj. Gen. Scott Jansson from Eglin Air Force Base and state Rep. Matt Gaetz of Fort Walton Beach.
Where: Mullet Festival Grounds, Niceville FL
When: Opening Ceremony at 10:00 am, June 7, 2014; display will be open 8 AM – 9 PM through June 14, 2014