Republican Eric Aden will be Okaloosa County's next Sheriff. At the close of candidate qualifying today, Aden was unopposed in his bid for sheriff. The new sheriff will take over the Sheriff's Office on January 4, 2021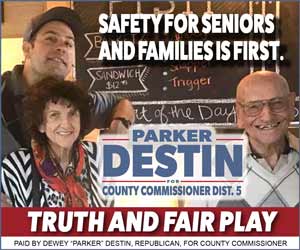 SHALIMAR, Fla — Republican
Eric Aden
will be
Okaloosa County's
next s
heriff.
At the close of candidate qualifying today, Aden was unopposed in his bid for sheriff.
The new sheriff will take over the Sheriff's Office on January 4, 2021.
Historically in Okaloosa County, it is highly out of the ordinary for anyone to run unopposed for sheriff when the current sheriff does not seek reelection.
Also, running unopposed are J.D. Peacock, Clerk of Courts; Ben Anderson, Tax Collector; Paul Lux, Supervisor of Elections; and Mack Busbee, Property Appraiser.
The only constitutional officer with a challenger is Marcus Chambers, who was appointed superintendent last year by Gov. Ron DeSantis. He is challenged by former State Representative Ray Sansom. Both are Republican.
Aden currently serves as a Major under Sheriff Larry Ashley and is the Operations Bureau Chief for the Okaloosa County Sheriff's Office. He began his career as a deputy in 1995 where he patrolled our roadways and was a School Resource Officer.
Over the past 20+years, Aden has worked, mentored, supervised, and managed personnel and resources in every facet of law enforcement. As Operations Bureau Chief, he oversees the Uniformed Patrol Division, Auxiliary Deputies, District Captains, and Watch Commanders, as well as, Airport Security for the county's three airports.
As Operations Bureau Chief, Aden is responsible for the safety and wellbeing of each of us living in, visiting, or traveling through Okaloosa County. He responds to both routine and critical incidents and manages nearly 200 of the agency's sworn personnel.
Aden has five children ranging in age from four to 17 years. He and his wife, Mandy, live with their family in Shalimar.