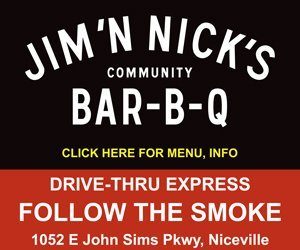 If a human eye could be close enough to see the robot tearing up a target on Eglin's range, it may just think it's witnessing a terrifying scene from a Hollywood movie.
However, the only "disguise" involved when these drones are in action are the 96th Civil Engineer Squadron's explosive ordnance disposal Airmen who sit tucked away in their "control room" trailer remotely controlling the vehicle's every move.
The test mission Sept. 9 took the Air Force's only EOD robotics technician team's skills to new levels when the call came for a robot needed to locate and disarm a fuze attached to a 2,000-pound JDAM submerged in dirt under a hard target on Eglin's range. Earlier that morning, an F-16 Fighting Falcon deployed the weapon so it ended up lodged deep under the target's surface for the purpose of testing EOD capabilities.
"Our operations are a key component to the success of developing these weapon systems and we do so while minimizing risk to personnel and equipment," said Staff Sgt. Brian Westgate, 96th CES EOD robotics technician. "Meeting new capability requirements and keeping pace with technology ensures we're always getting our hands dirty with upgrades."
While the humans had to evacuate the scene for safety, the robot successfully accomplished the mission for retrieving the test item that penetrated Eglin's range under a concrete slab target.
"Throughout this process, the EOD team and the 96th Test Wing personnel, specifically the test program's project engineer, worked closely together," said Tech. Sgt. James Fitzgerald, 96th CES EOD robotics section team lead. "Safety is always the top; that is why the EOD flight has the robotic capability not found anywhere else within the Air Force's EOD program."
Developing a unique solution to the one-of-a-kind challenge of removing a buried target was something he said his team was able to do because the resources and personnel are stationed locally.
Unlike other Air Force bases, the synergy of the 96th TW and its associate units, called "Team Eglin," covers the complete weapon-system life-cycle from concept through development, acquisition, experimental testing, procurement, operational testing and final employment in combat.
"The success of the EOD robotics team is very critical to effective completion of these fuze tests," said 1st Lt. Ayla Bicoy, 780th Test Squadron weapons test engineer and lead test engineer for the fuze program EOD has participated in. "Without recovery of the data package, the entire test would be worthless and would have to be redone. The unique capability the EOD robotics team provides, along with their expertise, allows them to complete days' worth of work in a short amount of time, while still being safe."
The Sept. 9 mission marks the ninth weapon recovery, within a year of testing the fuze program, using EOD resources.
The EOD robotics team said every situation they respond to is unique, but the basic steps with robotic missions are the same. EOD will clear immediate hazards, gain access to the item, "safe" the test item and dispose of the explosive hazards.
For this particular mission, Eglin's range services provided a path for the robot to get to the item. There is no heavy equipment on base that can safely move the targeted concrete to allow for retrieval, so they cleared the ground on one side to create an entry point for the robot to take over where it would be dangerous for people to continue to dig.
"Introducing these new robotic capabilities to the 96th TW, is hands-down the pinnacle of my career achievements," said Westgate who's background is an Air Force career field of Radio Frequency Transmissions Systems. "I was able to take nearly all of my previous job experience, education, and personal hobbies and apply it to this job directly. I've found great pride in what I've been able to accomplish."
Prior to the test, the EOD robotics team members were diligently coming up with ways to redesign and modify vehicles and excavators for a mission like the one just completed. They learned how to do this unique task on the job and continue to keep training records for future Airmen, who can end up outside of their career field to maintain the robots, a one-of-a-kind mission that began at Eglin approximately 15 years ago.
"It's far more challenging operating a vehicle remotely for several reasons, but the primary one is lack of your natural senses," said Westgate. "A lack of depth perception is the largest obstacle, but also cameras are not as good as the human eye, microphones aren't as good as our ears, and we only have a limited sense of touch through the robotic arm controllers. Mentally, it's strange to realize what you're watching, and doing, on a TV screen is actually happening in the real world just a mile away or less."
Data gained from this recovery will be used to help other Air Force ranges decide if robots are the answer to retrieving deeply buried, potentially dangerous test items on their ranges. Some bases have already expressed a need for Eglin's EOD to help them gain access to items they can defuse and repurpose for future test missions.
"The results are evident through a successful developmental test program. In the bigger acquisitions picture, a successful test program leads to better, more cost-effective weapons solutions for the warfighter," said Bicoy who has worked with EOD since the fuze program began testing the robot's ability to recover weapons.
While the timing and scheduling for such missions remains unknown until they evaluate each situation, Eglin's EOD robotics technicians are confident they can equip their team of personnel and robots for the task.
"We now have a proven plan for retrieving a buried item and extracting the fuze/data package and we've streamlined training and processes that enables us to conduct the mission quicker, reducing required mission resources and cost," said Westgate.
The test community benefits as well.
"Primarily, this affords the customer more realistic simulation of the items being developed and returns the Eglin range back over to range control in less time in order perform more test missions," said Fitzgerald.
The team's robot eyes are already seeing into the Air Force future of preparing newer vehicles to transform and perform recovery missions, They look forward to adding another robot soon because their current inventory is maturing into a "cyber" age of 15 to 21, depending on the machine.
"There is always room for improvements," said Westgate. We have a few ideas to introduce to the procedures, and identified some potentially weak points that need to be addressed and fixed. As with anything, there is wear and tear on the systems as we prepare for the next mission, whenever that may be."
Story by Chrissy Cuttita
Team Eglin Public Affairs
PHOTO: Tech. Sgt. James Fitzgerald, 96th Civil Engineer Squadron explosive ordnance robotics section team lead evaluates how well the remotely controlled small tractor, the"ASV Posi-Trak MD-70," retrieved the targeted test item and safely removed it Sept. 9 during a Team Eglin fuze program test mission. The unique Air Force capability of remotely digging a site for ordnance retrieval is something only Eglin's EOD robotics team can do. (U.S. Air Force photo/Chrissy Cuttita)
Thank you for visiting our Web site! Please take a look at our Home Page for more local coverage of life in the Nicest Little City in the South.