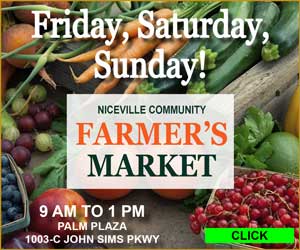 Diego's Burrito Factory & Margarita Bar, a local's favorite in Panama City Beach, will be opening a location in Niceville this fall.
The casual dining, Tex-Mex restaurant will be located in the Oak Creek Shopping Center. It has a projected opening date around mid-October 2015.
According to Omar Taleb, one of the owners, the new location in Niceville will offer the same menu as the Panama City Beach location, which features made-to-order burritos, tacos, nachos, and quesadillas. It will also offer a full bar highlighted by a large selection of margaritas and top shelf tequilas.
"Our food is both authentic and fresh," said Taleb. "We don't but anything pre-made, we make everything ourselves."
Taleb said he and his partners selected Niceville for their second location because they believe their concept is a good fit for Niceville's family-oriented community. Also important is Niceville's proximity to Eglin Air Force Base and Northwest Florida State College, and the fact that Niceville is growing.
"It's a great location and a good opportunity to offer Niceville something different," said Taleb. "There is nothing like our concept in the Niceville area."
Taleb described Diego's Burrito Factory & Margarita Bar as a family restaurant where kids are welcome and where they have a good time.
"The kids love the atmosphere, and their parents can relax and enjoy a margarita and some good food," he said.
Diego's Burrito Factory & Margarita Bar has earned a rating of 4.5 stars on Yelp.com. It has been in operation in Panama City Beach since November 2013.
About 15 employees are expected to be hired to staff the Niceville location.
More information about Diego's Burrito Factory & Margarita Bar, visit its website at www.diegosburritofactory.com.