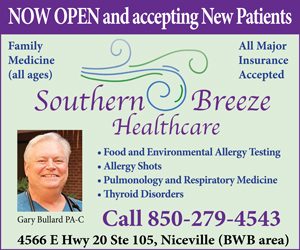 Destin Commons, Northwest Florida's premier open-air lifestyle center, continues to add nationally recognized retailers and restaurants to its 100,000-square-foot expansion, now under construction. Restaurant chain Chipotle Mexican Grill and a larger Zoes Kitchen, a favorite since opening in 2004, will debut this summer.
The expansion, which extends from Destin Commons' clock tower and playground area to the southwest corner of the property, will be anchored by H&M and Uncle Buck's Fish Bowl & Grill.
Chipotle Mexican Grill, a burrito chain known for its fresh ingredients, will occupy a 2,200-square-foot space directly across from Uncle Buck's Fish Bowl. Known for serving "Food With Integrity," Chipotle Mexican Grill's menu includes burritos, tacos, burrito bowls and salads made from fresh, high-quality ingredients that are – where possible – sustainably grown and "Responsibly Raised™ with respect for the animals, the land, and the farmers who produce the food." Chipotle Mexican Grill, which opened its first restaurant in 1993, operates more than 1,500 locations internationally.
Zoes Kitchen, a casual restaurant that prides itself on serving "Mediterranean food with a side of  Southern hospitality," will move from its 1,500-square-foot location into a 2,600-square-foot space adjacent to H&M. The new Zoes Kitchen will include beer and wine. Inspired by founder Zoe Cassimus' family recipes and her "fresh-from-the-garden sensibility," the menu incorporates wholesome, garden fresh ingredients and an array of gluten-free, vegetarian, and vegan options.
Zoes Kitchen was founded in 1995 and has approximately 100 locations across the United States. "We strive to provide our visitors with a diverse amount of fresh, flavorful dining options," said Destin Commons General Manager Bob Perry. "We're looking forward to the new Chipotle and  Zoes Kitchen, as well as the many additions planned for our expansion in the coming months."
Voted "Best Place to Shop" by readers of Emerald Coast Magazine, award-winning Destin  Commons continues to set the standard as Northwest Florida's premier open-air lifestyle center.  The center features more than 70 stores and restaurants offering the finest shopping, dining and  entertainment, including many first-to-market retailers such as Bass Pro Shops, Belk and the  AMC Destin 14-screen stadium style movie theatre. Destin Commons also offers 70,000 square  feet of Class A office space, free WiFi access, 49-head pop fountain, and Pirate's Cove children's soft play area. For additional information, call (850) 337-8700 or visit www.DestinCommons.com.