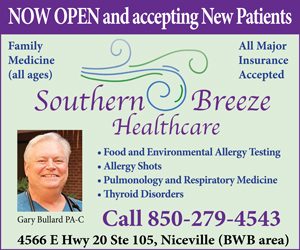 Her motto was simple, yet spoke volumes about her dedication to her students, "Do it with Love." For the late Frances Smith Herron, teaching dance, as well as the disciplines and joy of life, was her driving passion.
When Herron,founder and head of the dance department at Northwest Florida State College, passed away at age 54 in 2006 after complications from liver failure, numerous students and colleagues helped raise $90,000 to establish an endowment in 2008 to celebrate her life by naming the dance studio at the college's Mattie Kelly Arts Center in her memory.
The Frances Smith Dance Studio Endowment has since grown to more than $105,000 and has supplied close to $5,000 in scholarship and program support for students. As an endowment, only a portion of the fund's annual earnings are utilized, so that the dance efforts at the college can have a permanent and perpetual source of scholarship and program funding.
Every year NWFSC dance students showcase their talents in jazz, ballet, modern, and classical dance during a 2-day dance concert experience called "Dance Facets" with proceeds benefitting the endowment named in honor of Frances Smith Herron. This year's "Dance Facets 2014" event will be held Friday, April 25 and Saturday, 26 at 7:30 p.m. in the mainstage theater of the Mattie Kelly Arts Center on the Niceville Campus of Northwest Florida State College.
Tickets for "Dance Facets 2014" are on sale now in-person or by phone or web for $20 adult and $15 youth from the center's Box Office. NWFSC students may request 1 free ticket per student ID in-person from the Box Office only. Box Office Hours are 10:00 a.m. to 4:00 p.m. Monday to Friday and from 6:00 to 7:30 pm prior to each night of the event. Call (850) 729-6000 or purchase online at www.MattieKellyArtsCenter.org. All ticket sales include a $2 per ticket Box Office processing fee.
According to Joseph Taylor, professor of dance and head of the college's dance programs which encompass some twenty dance classes each semester, "Dance Facets" showcases the best of the best. "We hold very competitive auditions each year to select the performers for Dance Facets and then those selected work for months on their choreography and dance numbers," said Taylor, who noted that the 2-day show also includes dance numbers by NWFSC faculty, original choreography and lighting design by scholarship students.
"Dance Facets is held over two nights to allow more folks to enjoy this totally unique presentation and to help us raise more funds," explained Taylor. "The work and background preparation that goes into this dance extravaganza is tremendous. It's truly something for all ages and a real visual treat for everyone – even if you don't know much about dance."
Taylor noted that he is a "grad made good" alumnus of Okaloosa-Walton Community College, the former name of NWFSC, and was a student of Frances Herron's in the 1990's. "Students simply adored Frances, she was so dedicated to her craft and most especially devoted to each and every one of her students," he said. Taylor went on from OWCC to graduate from Florida State University with a MFA degree in Dance and then to work at Walt Disney Studios, Stiletto Entertainment and Holland America Line Cruises as well as numerous dinner theatres before he returned to his alma mater in 2006 to teach in the place of his former beloved mentor.
"It's not appropriate to say I'm now 'filling Frances' shoes' as head of the Dance Department – no one can take that place – but I do try to honor her legacy each day as I work with our students. In the end, it's just as Frances said – it's about more than teaching skills and technique – it's about doing what you do with grace and love for both the art and the student who creates the art – to help make our students become better persons and live life to the fullest just as Frances did."
Students who selected to perform in Dance Facets 2014 include:
CRESTVIEW – Kalyn Sawyer
DESTIN – Marisha Brown, Heather Connelly, Chloe Hagle, Katie Moore, and Lyndsi Stevens
DeFUNIAK SPRINGS – Haylee Green
FORT WALTON BEACH – Caroline Brehm, Taegan Dennis, Rebecca Jollie, Max Murdock, Stephanie Oldnettle, Sean Royal, and Shelley Theiss
MARY ESTHER – Javonte Coleman and Jessica O'Sullivan
NAVARRE – Jonathan Carter and Ashley Carter-Fair
NICEVILLE – Jonathan Delgado, Vini Febus, Kyrsten Johnson, Samuel Melecio-Zambrano, Zachary Phillips, Ashley Robinson, Sivu Schlegel, Amie Urban, Wesley Urbanczyk, and Carla Von Kaenel
SHALIMAR- Brooke Austin, Nathaniel Beechum, and Zachary Odom.
The Mattie Kelly Arts Center is located on the Niceville campus of NWF State College at 100 College Boulevard and is easily accessible via Interstate 10, State Highways 285 and 85, and the Mid- Bay Bridge or new Mid-Bay Connector toll road.