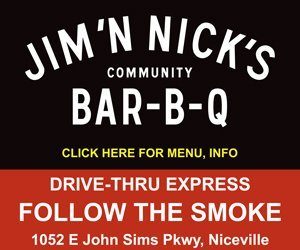 Join Chef Warren Caterson as he shares dozens of kitchen tips, cooking hints, and funny stories about the joys and challenges of cooking for two at the free program, "Cooking for Couples," to be held Saturday, August 22, 10:30 a.m., at the Niceville Community Center.
Warren Caterson is a full-time writer and foodie who has studied at the Southeast Institute of Culinary Arts. Whether he is cooking for two, or 200, he is convinced that life, joy, and communion can be found in a freshly prepared, and shared meal.
Chef Warren will answer such questions as: Is it possible to chop onions without tears? Are pre-packaged frozen dinners time and money savers? What is the best upgrade for my kitchen? What do I do with all that leftover fresh parsley when I've only used a teaspoon or two? And, should I cook with wine, and if so, what kind should I use?
Watch Chef Warren as he ends the presentation by fixing a healthy dinner anyone can make in their home.
Seating is limited. Please register by calling 279-4863 ext. 1507 or by email at lglass@okaloosa.lib.fl.us
The program is presented by Friends of the Niceville Library.
The Jessie Alama "Granny" Edge Community Center is located at 204 Partin Dr. North.