Workers are busy inside and out at Cold Creek BBQ in Niceville, preparing for an expected opening on Wednesday, March 25, in the former location of Niceville Garden Center, adjacent to PoFolks Restaurant.
Cold Creek BBQ will feature such BBQ favorites as ribs, pulled pork, Texas-style brisket, chicken, sausage, and cured turkey, all slow cooked in a smoker flavored with hickory, oak, pecan and mesquite hardwood.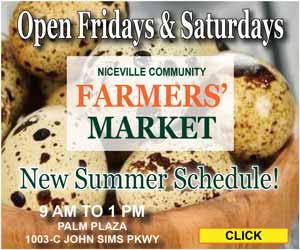 Other delights include a brisket Philly sandwich, Brunswick stew, hamburger/vegetable stew, and a burger celebrated as "the best burger in town."
"The menu is essentially the same as Benny's BBQ — though we have added salads and different feature items," said Ken Francis, one of the owners and operators of Cold Creek. Ken trained under Benny's watchful eye, and owned and operated Benny's for the past two years. It has now closed in favor of the new location and new name.
Cold Creek BBQ is a family operation. Robert Francis and Ric Francis, Ken's brothers, are both involved, as is his daughter-in-law, Holly, and his 81-year-old mother, Elizabeth (who, among other things, makes the home-style hamburger and vegetable soup using an old family recipe).
In addition to food, Cold Creek BBQ will be offering draft beer.
The new BBQ restaurant will offer seating for about 80 inside, and in the former shade/greenhouse. There will be additional picnic table seating outside, under the oak trees.
Expected hours for Cold Creek BBQ are: Monday-Thursday, 10:30 a.m. to 8 p.m.; Friday, 10:30 a.m. to 9:30 p.m.; Saturday, 10:30 a.m. to 8 p.m. The restaurant is closed on Sundays, at least for now, said Ken.
In addition to extending hours in the future, the restaurant will likely offer a breakfast menu as well.
Interested in working at Cold Creek BBQ? Ken said he is now hiring cooks, line cooks and servers. About 10 new employees are expected to be hired. Call 279-4447 for information.
Cold Creek BBQ is located at 1160 East John Sims Parkway.