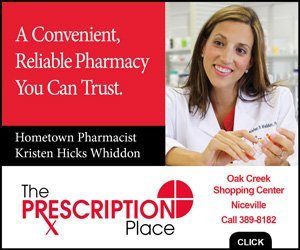 Just in time for Valentine's Day, Adrian Calabrese, an author and holistic therapist from upstate New York, is advising that affirmations, meditation and creative visualization are good ways to find a soul mate.
"I am ready and willing to open myself to a permanent loving relationship," you should tell yourself as you look in the mirror to discover that you "glow with optimism," and have an "adventurous spirit, wisdom and calmness." Mr. or Ms. Right is bound to find you, claims Calabrese.
Then, he recommends, "write your affirmation on a piece of paper and draw a heart around it." Close your eyes and try to visualize yourself with your soul mate.
"Repeat this meditation until your soul mate enters your life."
This is starting to sound a lot like daydreaming in sophomore algebra class.
— — —
Or, you could just depend on Necco wafers to find your true love.
Last year, lovers everywhere used the world's most famous Valentine's Day candies to encourage their sweethearts to "Be My Hero," "Cheer Me On," "Be A Sport" and join the "Dream Team," according to the New England Confectionery Co. Other sayings included "Love My Team," "All Star" and "No. 1 Fan."
Nice thoughts, all of them, but now we're back in grade school.
— — —
What are we looking for in a mate?
According to a Valentine's Day survey conducted of 500 men and women by Harlequin Enterprises, the romance novel people, a person's most seductive attribute is his or her looks. More than half of those surveyed said so.
"But, the superficial is most attractive to men (61 percent) rather than women (43 percent)," said the survey report. "'Money' is in second place with 20 percent in both groups, followed by 'power' with 14 percent."
Which is the most tempting type?
The survey showed that men say they're likely to find "intellectuals" (21 percent) and "free spirits" (20 percent) the most alluring, followed by the proverbial "bad girls" (17 percent), "romantics" (14 percent), "mysterious" women (9 percent) and "teases" (8 percent). Thirty percent of women wanted their men to be "romantics," followed in the rankings by "free spirits" (15 percent), "charmers" (15 percent), "intellectuals" (13 percent), and "bad boys" (11 percent).
Regrettably, no women suggested that they were even mildly attracted to a guy who was about to spend most of March plopped down on the couch, drinking light beer and munching potato chips, while watching college basketball tournament games on television. It isn't exactly a fantasy.
— — —
Speaking of fantasies, and even fulfilling them, soul mates who already have found each other can "relight the fire" of their passion with a variety of products, said Jennifer Downey, president of Ambiance, the Store for Lovers.
Products suggested by Downey include Passion Cafe Aphrodisiac-Flavored Coffee, rose petals for bed or bath, a hot massage kit, and Chocoholics Strip Chocolate games.
We're obviously not in grade school anymore.
— — —
Those who have been together long enough before Valentine's Day to meet the parents should be aware of some things to "do" and "don't" when in the company of a lover's mom and pop. Dan Gabor, the author of the book "Words That Win: What to Say to Get What You Want," suggests a few things significant others can do to impress parents.
Do bring a small gift, flatter the parents by complimenting their home or cooking, reveal positive information about yourself, and politely answer questions during the obligatory parental background quiz.
On the other hand, a boyfriend or girlfriend should not talk politics, show off, talk too much about work, expect to be waited on, or reveal any family secrets.
— — —
Finally, another expert gives us a glimpse of the flip side of love.
Ruth Houston, author of "Is He Cheating on You?," seems way too happy to report that between 50 and 70 percent of men cheat on their mates.
The author said that telltale signs of a man who cheats include thriving on adventure, having a great deal of sexual experience before you met, keeping a lot of female friends, having male friends who are cheaters, having parents who cheated, having cheated in past relationships, and possessing the feeling that infidelity is "really no big deal."
"Even if you only have one 'yes,' " warns Houston, "there's still cause for concern."
But, have a heart with a sweet saying on it, and try to have a happy Valentine's Day anyway.