Christmas boat parades in Niceville Dec. 12 & 19
Niceville Christmas Boat Parade 2015 – Niceville Christmas festivities take to the water with two Christmas boat parades set for December, one sponsored by North Light Yacht Club and the other by Bluewater Bay Marina.
The North Light Yacht Club Christmas Boat Parade will be held in Niceville on Saturday, December 12, beginning at 6 p.m. Festivities begin at 3 p.m. Parade watchers can enjoy refreshments and festivities on the docks at North Light Yacht Club with fun for the whole family.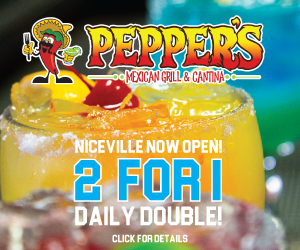 Boats will circle Boggy Bayou, making for good viewing along both the Niceville and Valparaiso shorelines. A route map is shown below: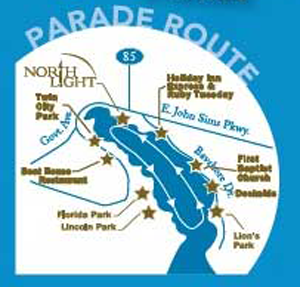 From 5 p.m.-8 p.m., the Niceville High School Chorus will hold a fundraiser at Ernie's Dockside Café featuring a performance by Opus One on the floating fireworks platform. General seating is $15 per person, and VIP seating aboard the platform is $20 per person. Enjoy silent auctions and all-you-can-eat catfish and jambalaya. Tickets are available from NHS Chorus members. To purchase a ticket call Karen Boyer at 850-418-3815
The Bluewater Bay Marina Christmas Boat Parade will be held on Saturday, December 19, beginning at 5:30 p.m. Boats will leave the Bluewater Bay Marina and travel North to Nelson's Cove, around Rocky Bayou and South to Rocky One marker then return to Bluewater Bay Marina.
Visit the Bluewater docks early and see the boats as they leave for the boat parade.
If you are interested in participating, contact Bluewater Bay Marina at 897-2821 and North Light Yacht Club at 678-2836.
Bluewater Bay Marina is located at 290 Yacht Club Drive. North Light Yacht Club is located at 115 W. John Sims Parkway.