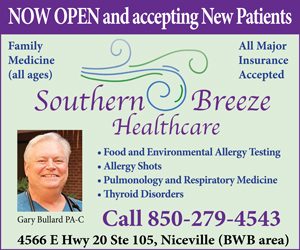 Bluewater Chiropractic Wellness Center showed their great support to the community by donating $750 to Children in Crisis during their recent "Doctors With A Heart" event.  Dr. April Lee, D.C. and Dr. Doug Sterban, D.C. from the Niceville location on Hwy. 20 established the fundraising program to give back to the charities in the community.  New patient evaluations were given at a reduced rate and all the funds were given to CIC to help give a home to the at-risk children of our community.
Ken Hair, CIC President & CEO commented, "We have been blessed with great support from the community to build the CIC Neighborhood.  However, it's a struggle to find the necessary funding to sustain operations of our foster homes.  Support from the Bluewater Chiropractic Wellness Center is a tremendous help in our efforts to provide a safe haven to the abused, neglected and abandoned children in need of a home."
The CIC Neighborhood is a beautiful facility, built by the generous support of the community.  It has an emergency shelter for children who are removed without notice from an unsafe environment, family foster homes for young children and a teen transition homes for foster children aging out of care.  To learn more about Children in Crisis call 850-864-4242 or visit www.childrenincrisisfl.org.
Photo:  Dr. April Lee, D.C. (center) and Dr. Doug Sterban, D.C. (left) with Bluewater Chiropractic Wellness Center presented a donation of $750 to Children in Crisis' Ken Hair, President and CEO, (right) from the recent "Doctors With A Heart" fundraising event.  The awesome staff of the Wellness Center in blue, showed their great support to CIC throughout the campaign.