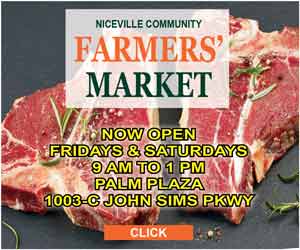 Halloween is not as it once was for neighborhood trick-or-treating. Turn the clock back a decade or two and nearly every household in Niceville celebrated the holiday and welcomed costumed children in search of Halloween goodies. Today, many – perhaps most – neighborhoods are eerily dark on Halloween, porch lights turned off and not a jack o' lantern in sight.
Community-minded churches and shopping centers offer great alternatives to door-to-door trick-or-treating, but many children still opt for a traditional Halloween night.
So, which are the best neighborhoods for trick-or-treating in our community? We put the question to our Facebook readers and many took the time to respond and help build our Niceville trick-or-treat trail.
Our readers' top 3 neighborhoods for Halloween trick-or-treating in Niceville are Creekside, Blue Pine Village at Bluewater Bay and The Woodlands at Bluewater Bay.
Other favorites include additional neighborhoods in Bluewater, Raintree Estates (off White Point  Road) the Huntington Road neighborhood (off of Rocky Bayou Blvd.) and Bayshore Place (Bayshore Drive).
Creekside, Niceville's top-rated trick-or-treat neighborhood according to our readers, is located in the area behind the Oak Creek Shopping Center (where the new CVS store is located).
"We live in Creekside behind the new CVS in Niceville! Every year there are tons of people & candy!!!!" writes one reader.
Other comments about Creekside include:
"We live behind the new CVS and it seems like there are HUNDREDS of trick-or-treaters! It's well lit and safe."
"Creekside is always amazing."
Blue Pine Village and the Woodlands are nearly as popular on Halloween night as Creekside. The Woodlands is located off of White Point Road in Bluewater.  Blue Pine Village is located off of Range Road in Bluewater.
In Blue Pine Village "Street lights and almost every home participates," writes one reader.
Another says about The Woodlands: "We have started a tradition of going to the Woodlands after trick or treating in our neighborhood. The woodlands is the place to be! Check out the haunted garage and haunted woods. A fun treat for my kids."
Other comments about The Woodlands include:
"Come on out to the woodlands for some great candy I do it for the little kids all the little kids love my goofy ears so come out to the woodlands and come see goofy."
"I live in the Woodlands also, we've had a lot of kiddos in the past."
"We live in the Woodlands in BWB and always have a great time! It seems dark, but lots of houses participate!"
"I'm in the woodlands. All the neighbors say it's a big success! I'm excited! Everyone goes to these trunk or treats. It ruins trick or treating. That's why there's never anyone out. Just my opinion."
To see all of the comments, or to make a comment or a trick-or-treat suggestion, please visit our Facebook page HERE.
Halloween in Niceville will be celebrated on Friday, October 31. Recommended trick-or-treat hours are 6 p.m. to 8 p.m.