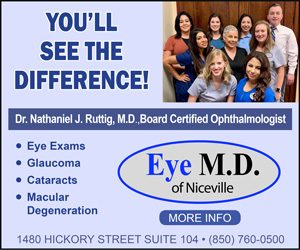 Military children from local installations received a once-in-a-lifetime opportunity to train with and like the pros.
Partnering with Proctor and Gamble, Steve Smith, a wide receiver with the Baltimore Ravens, hosted a pro football camp for 150 first through eighth graders at the Eglin Youth Center June 23-24. Eglin was selected as part of a sales contest the Eglin Commissary won.
"It's a huge honor to have something this big come to Eglin," said Kevin Kegler, Commissary store director. "It helps keep the military benefit alive."
With the assistance of area youth coaches, Smith spent the two days teaching children everything football, from throwing and catching the ball to running the field.
"It's having fun with these kids to get them to understand it's not really about judging… it's not about any of that stuff," Smith said. "We're just clowning around. If you can't clown yourself — you got to be able to have fun with it."
For Master Sgt. Joseph Bisson, 33rd Maintenance Group loading standardization crew chief, the camp gave his son, Talen, 8, a chance to learn more about the sport.
"It's a great opportunity for him to get out and see what football is all about and to see someone who's normally on TV right in front of you," said Bisson. "My son's having a great time."
Serving the military community is not foreign to Smith. In the last decade alone, he has supported military children all over the U.S., to include installations overseas as well.
"Running with these kids, it keeps me young," said Smith. "Every year the kids are getting bigger and faster. I'm just an old man trying to keep up with them."
At the end of the day, it's not just the children Smith is supporting but their families as well.
"You just get to impact [the kids]and, honestly, to get on a military base, give back to the community, give back to the soldiers, to the men and women who serve," he said. "I feel like there's no better reason [to]."
Article by Jasmine Porterfield
Team Eglin Public Affairs
Above: Baltimore Ravens' wide receiver, Steve Smith, shows a player how to spin the football after a touchdown during the two-day children's football camp June 24 at Eglin Air Force Base, Fla. Smith was the professional coach at the camp that taught the kids up-tempo football drills, exercises and scrimmages. Approximately 150 children attended the camp which was made possible because the Eglin Commissary won a Proctor and Gamble sales contest. (U.S. Air Force photo/Samuel King Jr.)