Extension horticulture agent Larry Williams answers questions about Florida lawn insecticides and herbicides, earthworms, and when to prune oleander shrubs.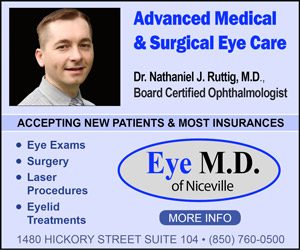 Q. I have a new St. Augustinegrass lawn and I'd like to know what type, amount and time of year to apply insecticides and herbicides to the lawn.
A. It's difficult or impossible for me to offer a "schedule" or "calendar" approach to pest control in a lawn. Farmers have gotten away from this concept of "routine" application of pesticides years ago based on better science, environmental concerns and cost of the pesticides. Pests should be treated as needed. The primary pests of St. Augustinegrass are chinch bugs and gray leaf spot. Chinch bugs are mostly active during the hotter summer months and gray leaf spot is mostly active during warmer, wet weather. Mole crickets and large patch fungus are not as much of a problem as compared to chinch bugs and gray leaf spot fungus. Mole crickets are wrongly blamed for many lawn problems. It's best to target the immature stage of the mole cricket, which means treating during June or July. Large patch fungus is the most active during the cooler weather of spring and fall. Weeds should be dealt with based on the type of weeds your lawn has. But it is not a given that you'll have to treat for any of these pests on a regular basis. Learn to monitor for these pests and treat the lawn only as needed. Correct maintenance (fertilizing correctly, watering on an as needed basis and mowing at the correct height) is the major factor.
Additional information on growing a Florida lawn, including pest identification and management, is available online at http://hort.ifas.ufl.edu/yourfloridalawn or from the UF/IFAS Extension office in your County.
Q. I noticed that there are no earthworms in our vegetable and flower gardens. How beneficial would it be to add earthworms to garden plots?
A. Earthworms are very beneficial to a garden. Usually, if you provide the right conditions, earthworms will begin to populate the garden soil on their own. Earthworms really appreciate adequate organic matter. You can increase organic matter in a garden over time by incorporating compost and/or manure (cow, poultry, goat, horse). You could try to add earthworms to your garden but many times as you add compost and/or manure, you will be adding the earth worms, as well. Here is an online publication on earthworms. http://edis.ifas.ufl.edu/in946
Q. When can I prune my oleander shrubs?
A. Oleanders flower on new growth, so prune just prior to spring growth. Thin out old wood and head back top for desired shape and height.
Larry Williams is the Extension horticulture agent with the Okaloosa County Cooperative Extension Service, University of Florida. Contact Larry at 689-5850 or email lwilliams@co.okaloosa.fl.us.