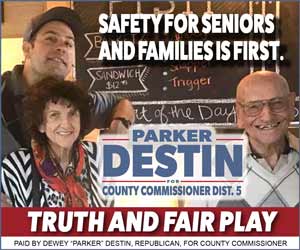 The summer has come to a close. The cooler temperatures and lower humidity of October and November usher in a new camellia season. Camellias are not like most dormant winter plants that fold up for a long winter nap. Wintertime is camellia blooming time.
In today's article, Greater Fort Walton Beach Camellia Society member Joseph Jenus invites you to the upcoming camellia show.
Camellias come in a wide variety of colors, shapes and blooming times. This allows the local gardener to plant Sasanquas for early fall blooming. Other fall, winter and spring blooming varieties are available to assure a colorful camellia display throughout the winter season.
For those interested in learning more about camellias, there is our local Greater Fort Walton Beach Camellia Society (FWBCS) which is an affiliate of the American Camellia Society. Today's FWBCS began in 1958 with Sarah Frances
Brooks Pryor presiding over the earliest meetings. On January 1991, the Mayor of Fort Walton Beach declared the camellia the City's "Official Flower." Signs with this designation were placed on Highway 98 at the east and west of the city.
The 51st Annual Camellia Show, the Society's biggest event of the year, will be held on Saturday, November 12, 2016 at the Meridian at Westwood Retirement
Resort, 1001 Mar Walt Drive in Fort Walton Beach. The Show is free and open to the public from 12 Noon to 4 PM. The Show is a regional competition in which hundreds of blooms (last Show, over 900) are entered by members of various camellia clubs from all over the Southeast from Georgia to Louisiana. The Show is sanctioned by the American Camellia Society.
At the Show, a limited selection of special camellias will be available for purchase, in addition to Gibberellic Acid for bloom stimulation. Members will be available to answer questions on camellia care, propagation, identification, etc.
The Camellia Society welcomes anyone (from the Camellia Society or from the public) who has blooms to enter in the Show. Please contact Joseph Jenus,
Show Chairman, for details and procedures for entering.
The Frances Brooks Memorial Camellia Garden is a must-see for visitors and locals alike. The garden is comprised of two contiguous parcels of land donated by Diana Pryor Sloat and the Vandegriff family and was dedicated by the Mayor of FWB on December 4, 1993. It is located between Highway 98 and Brooks
Street, just across from the Temple Mound. The garden is currently being refurbished. It is maintained by the city and FWBCS and is in bloom from
December to April. In addition, there is also a camellia garden for everyone to enjoy at the Temple Mound.
For information about the Show or the FWBCS, contact Joseph Jenus at 850-862-4526.
Larry Williams is the Extension horticulture agent with the Okaloosa County Cooperative Extension Service, University of Florida. Contact Larry at 689-5850 or email lwilliams@co.okaloosa.fl.us.