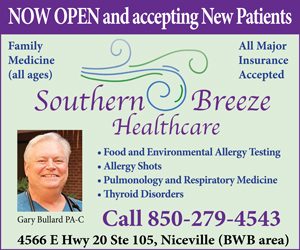 State Representative Matt Gaetz is encouraging area residents and officials to attend the first Accountability Okaloosa Town Hall Meeting scheduled to be held September 30, 2014, 5:30 p.m. to 7 p.m., at Niceville City Hall.
Gaetz is hopeful community residents will attend and speak up in an effort to help define community priorities and hold elected officials accountable.
Elected officials expected to be in attendance include:
Florida Senate President Don Gaetz
State Representative Matt Gaetz
Sheriff Larry Ashley
School Superintendent Mary Beth Jackson
Tax Collector Ben Anderson
Supervisor of Elections Paul Lux
Property Appraiser Pete Smith
Clerk of Court-Elect JD Peacock
County Commissioner-Elect Trey Goodwin
County Commissioner -Elect Carolyn Ketchel
School Board Member Rodney Walker
Representative from City of Crestview
Town of Cinco Bayou Mayor Jean Hood
Town of Cinco Bayou Council MemberPaula Andrews
Destin City Council Member Tuffy Dixon
Destin City Council Member Prebble Ramswell
Fort Walton Beach Mayor Mike Anderson
Fort Walton Beach City Council Member Joyce Gossom
Fort Walton Beach City Council Member Bobby Griggs
Fort Walton Beach City Council Member John Mead
Fort Walton Beach City Council Member Dick Rynearson
Mary Esther City Council Member Ruth Sykes
City of Valparaiso Mayor Bruce Arnold
Republican State Committeeman Steve Czonstka
Republican State Committeewoman Sandra Atkinson
For more information, visit the website AccountabilityOkaloosa.com.
Thank you for visiting our Web site! Please take a look at our Home Page for more local coverage of life in the Nicest Little City in the South.