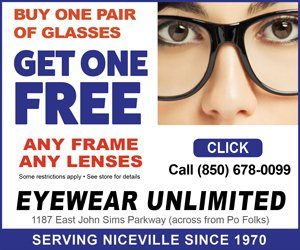 The classic Charles Dickens tale "A Christmas Carol" takes a delightful twist December 5 and 6, 2014 in a customized adaption by NWF State College that combines vibrant song and dance along with acting, period costumes, narration, set design and more to bring to life the story of Ebenezer Scrooge, Tiny Tim, Bob Cratchit, and the spirits of Christmas. Included in the ticket price of $25 each will be Victorian style desserts and beverages.
"A Christmas Carol: In Concert" will have three performances in the Sprint Theater of the Mattie Kelly Arts Center at 7:30 pm on Friday, December 5 and Saturday, December 6, and an additional show on Saturday at 2:00 p.m. Tickets are on sale now through the center's Box Office, by phone, web or in person.
"This performance of A Christmas Carol will be unlike any you have ever seen," explained Joe Taylor, artistic director for the college's production of the holiday classic. "Our 53 cast members, singers and dancers will present a unique 'In Concert' version of the story that's a beautiful and endearing way to enjoy traditional Christmas carols and see a family-favorite holiday story unfold through the songs of the yuletide." Taylor explained that through select scenes taken from Charles Dickens' novella, the audience will be able to enjoy the timeless tale of forgiveness and redemption in its entirety through song, dance and narration.
Call or click for tickets through the Mattie Kelly Arts Center Box Office at (850) 729-6000 or online at www.MattieKellyArtsCenter.org. Advance purchase is strongly recommended as similar holiday productions at the college normally sell out and the performance will be presented in the smaller of the two theater venues at the arts complex.
The portrayal of the beloved Charles Dickens story will feature the talents of NWF State College scholarship vocalists, theater students, and community actors and was conceived and is directed by Joe Taylor and NWF State College music professors Allison Everitt and Lois Henry.
John Leatherwood, NWFSC professor emeritus, and recently known as "Father Christmas" in prior NWF State College productions, will portray Charles Dickens, dressed in full Victorian regalia, and will provide narration for "A Christmas Carol: In Concert."
In the cast, Tristan Allen of Fort Walton Beach portrays the adult Ebenezer Scrooge and the young Scrooge will be played by Max Murdock of Fort Walton Beach. Dylan Garofalo of Santa Rosa Beach will appear as Bob Cratchit, the long-suffering accountant at Ebenezer Scrooge's counting house business, and Richard McWhorter of Niceville will play Tiny Tim Cratchit.
The famous ghosts of A Christmas Carol will be played by Daniel Thornton of Baker, who appears as Marley's Ghost; Brooke Austin of Fort Walton Beach as the Ghost of Christmas Past; Katie Pickler of Niceville as the Ghost of Christmas Present; and Rebecca Jollie of Fort Walton Beach as the Ghost of Christmas Future.
Madalyn Wilson of Santa Rosa Beach appears as Mrs. Cratchit, with the Cratchit family children played by Jason Mueller of Shalimar as Peter Cratchit; Gracie Brown of Niceville as Martha Cratchit; Arin Walker of Niceville as Belinda Cratchit.
Other characters in "A Christmas Carol: In Concert" include: Laura Giffin of Niceville as the young Belle – Ebenezer's first love, and Madeline Kirkpatrick of Niceville as Belle's memory.Dakota Blankenship of Fort Walton Beach appears as Fred, Scrooge's kind nephew and Carla Von Kaenel of Niceville portrays Fred's wife Miriam. Anna Christopherson of Fort Walton Beach plays Margret, Miriam's oldest sister, and Donovan Black of Niceville plays George, Margret's husband. Megan Garofalo of Santa Rosa Beach, plays the younger sister Mary.Sean Royal of Fort Walton Beach appears as Topper, Fred's bachelor friend. Aaron Manley of Niceville plays Gentleman #1; Chance Byrd of DeFuniak Springs is Gentleman #2; and Zach Phillips of Niceville plays the boy in the street.
Members of the college's MADRIGAL SINGERS who will sing as part of "A Christmas Carol: In Concert" include: Tristan Allen; Donovan Black; Dakota Blankenship; Chance Byrd; Anna Christopherson; Emily Christopherson; Nathan Fife; Taylor Evans; Dylan Garofalo; Megan Garofalo; Madeline Kirkpatrick; Taylor Lapee; Aaron Manley; Richard McWhorter; Jason Mueller; Zachary Odom; Zachary Phillips; Katie Pickler; Sean Royal; Stephanie Sanders; Albert Sousa; Ashlyn Stevens; Sivu Schlegel; Sidney Thomas; Daniel Thornton; Arin Walker; Madalyn Wilson and Carla Von Kaenel.
Other vocalists appearing are part of the college's select BELLE VOCI women's vocal ensemble: Grace Brown; Brittany Castle; Taylor Evans; Caitlin Grobmyer; Rebekah Hedden; Autumn Herndon; Tifani Johnson; Victoria Mullins; Shane Reeves; Stephanie Sanders; Ashlyn Stevens; Sidney Thomas; Amanda Urbina; Carla Von Kaenel; Madalyn Wilson.
DANCE ENSEMBLE members include: Brooke Austin; Bria Bennett; Jonathan Delgado; Ashley Fair; Laura Giffin; Rebecca Jollie; Hannah McGlamory; Samuel Melecio-Zambrano; Maxwell Murdock; Jessica O'Sullivan; Zachary Phillips; Ashley Robinson; Arlette Rogers; Kalyn Sawyer and Wesley Urbanczyk.
The Mattie Kelly Arts Center is located on the Niceville campus of NWF State College at 100 College Boulevard and is easily accessible via Interstate 10, U.S. Highway 285 and Highway 85 and the new Mid-Bay Bridge Connector Road.