The Chamber recognized the following inductees into the Niceville Valparaiso Civic Leader Hall of Fame: Nancy Myers Grigsby, Walker V. Spence, Jessie Alma Granny Edge, and Lt. Lt. General Gordon "Gordy" Fornell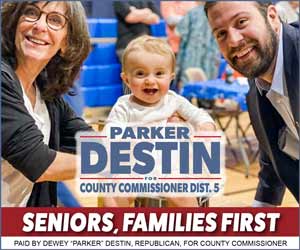 The Niceville Valparaiso Chamber of Commerce held its 3rd Annual Civic Hall of Fame Luncheon at the Niceville Community Center on Wednesday, July 18, 2018. Presenting sponsor was CCB Community Bank. This event inducted four area leaders who made broad and lasting contributions to the community into the Civic Hall of Fame.
The Chamber recognized the following inductees: Nancy Myers Grigsby, Walker V. Spence, Jessie Alma Granny Edge, and Lt. Lt. General Gordon "Gordy" Fornell.
The theme for this year's event was the Sesquicentennial (150th) Anniversary of the City of Niceville. Co-masters of ceremonies, Alan and Tracy Wood provided an explanation on the difference between the 150th anniversary and 80th-anniversary celebration for the City of Niceville.
In 1868, Boggy, FL, started receiving official mail service and back then that was all you needed to be a town. In 1910 Boggy was officially changed to Niceville and in 1938 the City of Niceville voted to petition the state for official incorporation. However, the State did not officially accept the petition until 1939.
Guest speaker Dr. Devin Stephenson, President of Northwest Florida State College spoke to the 150 attendees about the qualities and traits found in civic leaders and challenged the audience to engage in the conversations, be a part of the solutions and make our community an even better place than when we got here.
The 2018 Niceville Valparaiso Civic Leader Hall of Fame Inductees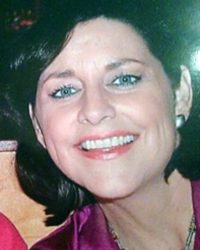 Nancy Myers Grigsby
Nancy Myers Grigsby, nominated by Dr. Jeff Waits with help from her husband Bill Grigsby, Dr. Christopher Reid and Jerry Haag, was born in Florence, Alabama on June 25, 1958.
Nancy married her husband, Bill Grigsby in 1985 and that year they moved to Niceville, where she immediately immersed herself in the community. By all accounts Nancy Myers Grigsby embodied the definition of a servant's heart and she went about life with grace, humor and strength.
She was Miss Sheffield High and Mississippi College Homecoming Queen. She was also featured on the Channel 3 News segment "Angel in our Midst" and in the Northwest Florida Daily News "People who make a difference" column. She is a member of the Okaloosa County Wall of Honor for Women.
Nancy worked as a medical social worker and patient educator at Fresenius Medical Care where her patients and co-workers were part of her extended family. There she started and maintained one of the longest running Kidney Disease Support Groups in the state. She was a constant provider of hope, comfort, prayers and emotional and spiritual support.
Nancy was often seen at Plew Elementary reading to children; in fact, there she received the nickname "Fancy Nancy" after the beloved children's book. She also participated in Relay For Life, various Cancer Support Groups, served on the Sacred Heart Foundation Board, assisted with Ronald McDonald House Fundraisers, was a member of Impact 100 and so much more.
Two of her passions in life were First Baptist Church of Niceville and The Florida Baptist Children's Homes. She was part of the fabric of her church and taught various classes and Bible studies the entire 31 years she attended, 20 of which she served on the Church Board.
Nancy led numerous mission trips to Guatemala where she worked in a Children's Malnutrition Center, even after she was diagnosed with stage 4 Colon Cancer. Nancy's leadership in the Florida Baptist Children's Homes impacted thousands of children and families in crisis in the panhandle, across the state and the world. She challenged the board and staff to make strategic plans to implement programs for foster care, child hunger, single moms, and anti-trafficking and many others.
Nancy was giving, compassionate and merciful. If there was a need Nancy would fill it. Not only was she generous with her time as a volunteer, she also found countless local families a place to rest their heads, connected them to needed social services, and when help could not be found she pulled money from her own pocket.
Her obituary last November said it best "Some would say that Nancy lost her battle with cancer. The truth is cancer never had a chance with her. She lived close to 14 years after her diagnosis and accomplished more in that time than most people do in a lifetime."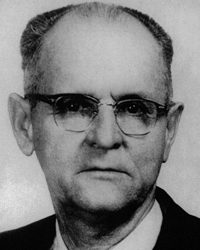 Walker Vester Spence
Walker Vester Spence, nominated by daughter Freida Spence, S&R Properties, Inc. and family, was born on September 14, 1908, in the family home overlooking Boggy Bayou now known as Spence Circle in Niceville. The son of Sylvester and Mary Spence, Walker grew up playing and fishing in the bayou.
Walker completed school up until the 8th Grade but at that time there was no high school. He went back to school at age 18 when Niceville High School was built and was part of the first graduating class in 1930. He also worked in the family's sawmill known as Bayou Lumber Company.
In 1933, he married Lola Hart of Dorcas, Florida who was a loving and supportive spouse. Lola and Walker were two of the original 333 individuals who signed the Niceville charter in 1937, officially incorporating Niceville as a city.
Walker began his forestry career as a forest fire fighter and towerman in the Choctawhatchee National Forest. The forest was established by President Theodore Roosevelt in 1908 and in 1940, over 340,000 acres of the forest were transferred to the War Department and subsequently to the US Department of the Air Force and is known today as the Eglin Reservation. In 1960, Eglin's conservation program, under Walker's leadership, received the first ever Gen. Thomas D. White Fish and Wildlife Conservation Award, which they have received several times since.
Walker remained in the forest industry for 35 years, retiring as Chief of Natural Resources of the Eglin Air Force Base Reservation in 1966. For several years part of his job was to oversee the government-owned sawmill located on the Reservation. Walker Spence was also responsible for planting millions of pine trees and for maintaining and stocking more than 25 fishing ponds on the Eglin Reservation. Today the reservation provides recreational activities for thousands of people each year to enjoy hunting, fishing, camping, picnicking, canoeing and hiking.
In the late 1950s, Col. Fred Gannon, Director of Civil Engineering at Eglin had a dream of turning the land along the shores of Rocky Bayou into a park. Walker and his team were instrumental in the design and development of the park, today known as the Fred Gannon Rocky Bayou State Park.
During World War II, Eglin grew into a major area employer. The population of Niceville in 1940 census was only 948 residents but grew to 2,497 by the 1950's census, an impressive 160% growth-the largest in Niceville's history. With the explosion of growth, Walker and Lola saw a need for affordable housing for young couples coming to Eglin. In the late 1940s they began building small and affordable starter homes, Walker himself doing most of the carpentry work and landscaping.
Walker opened Gulf Coast Building and Supply in Valparaiso with his brothers in the 1940s and a full-service gas station on John Sims Parkway in the 1950s. In the 1960s, along with his brothers and several community leaders they chartered the Okaloosa National Bank, the first bank in Niceville. Prior to the bank opening residents had to travel to DeFuniak Springs to do their banking. Later the bank name changed to the First National Bank of Niceville and Walker served as Director and was often seen maintaining the beautiful grounds on the weekend. The Bank was later sold and the building currently houses the office of the Okaloosa County Tax Collector.
Walker Spence also served as Mayor of Niceville from 1967-1971. City Manager Lannie Corbin described Walker Spence as a wise advisor in his early career as City Manager.
Walker was very civic minded. He was a charter member of the Niceville-Valparaiso Kiwanis Club. He served on their Board of Directors, as President and was awarded Life Member Status. He also served on the Okaloosa County Council on Aging, the United Way Board of Directors, and was a dedicated Masonic Lodge and Chamber member.
He was a visionary who believed strongly that the College should be located in Niceville for easy access for everyone and was involved in the preliminary discussions for a bridge from Niceville to Destin.
Walker Spence was a true community and family man, he loved this community and worked hard to ensure its continued prosperity and helped shape Niceville and Valparaiso into what it is today.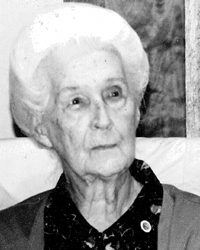 Jessie Alma "Granny" Edge
Jessie Alma "Granny" Edge, nominated by David Edge and the Edge Family, was born in Opp, Alabama on March 7, 1900. She was born into an affluent family, took piano lessons and was raised to be a true southern belle.
Funny story about how she got to Niceville: her father was an avid sportsman who owned several hunting and fishing lodges in Niceville where her family frequently vacationed.
Here she fell in love with the postmaster's son, Joe Edge, and even though Joe wasn't the man her parents had in mind for her, she stood her ground and with the help of a friend who had the only car in town, she and Joe eloped.
Life was hard for the 11 families living year-round in Niceville at that time. Granny Edge was considered an outsider at first with her sophisticated upbringing, but she was stubborn and determined to win-over the locals. She raised a large family with 9 children and they all worked hard. Her husband managed Meigs' Fish House and later the ice house and also Niceville's first garage.
In that time there was little room for women in politics, but Granny Edge was not your average woman. She was strong, determined and most of all stubborn and often attended council meetings bringing refreshments along as an ice-breaker.
In 1979, after the passing of her husband, Granny started to focus on community activism. She became a delegate in the Florida Silver Haired Legislature. In 1983, Granny Edge was the first women to be elected to the Niceville City Council and the oldest person in the US ever to win a first bid for election at age 83. Her campaign slogan was "I love everybody. If you want to see something done, just come see Granny." She retired from public office at age 92.
She was a lobbyist for a new hospital and quickly gained a reputation as a political force of nature. State Rep. James Ward was reported to have told a friend "You've got to get Jessie off me! When she phones it's like your grandmother twisting your arm."
Thanks to Granny Edge's persistence we have the Twin Cities Pavilion Assisted Living Retirement Facility, still assisting those in need today.
Over the years, Granny made a difference in the life of many and she considered all Niceville residents family. She called everyone "honey" and "child" because she laid claim on everyone.
Granny Edge left this earth on February 11, 1998 and was laid to rest at the Rocky Memorial Cemetery. She was represented at the Hall of Fame induction ceremony by her youngest and last living son Gene Edge and her granddaughter, Debbie Edge Fossum.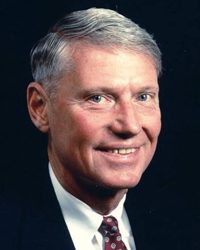 Lt. General Gordon "Gordy" Fornell
Lt. General Gordon "Gordy" Fornell, USAF Retired, nominated By Van Fuller, Mid-Bay Bridge Authority, is well known in Northwest Florida and is widely respected for the significant contributions he makes to the Niceville Valparaiso area. His vast military experience and knowledge is matched only by his credibility, influence, and ability to bring people together for a common good.
Born in Chicago, Illinois, General Fornell earned a Bachelor of Science degree in mechanical engineering from Michigan State University in 1958 and a Master of Business Administration degree from the Wharton School, University of Pennsylvania, in 1978. While at Michigan State University he was a member of the 1957 Big Ten Conference championship swim team.
General Fornell has a wide range of operational and test experience. He has flown over 50 types of aircraft, logged over 7,000 hours of fly time, wears parachute wings and is a Certified Level III program manager.
He has received numerous decorations and awards including: Defense Distinguished Service Medal; Distinguished Service Medal Legion of Merit with oak leaf cluster; Distinguished Flying Cross with two oak leaf clusters; Meritorious Service Medal with oak leaf cluster; Air Medal with 11 oak leaf clusters; and the Air Force Commendation Medal. He also wears the Basic Parachutist and the Missile Crew Member Badges.
General Fornell served in senior acquisition leadership positions in Air Force Systems Command and Air Force Materiel Command which included two commands; one as Commander, Armament Division at Eglin from 1985-1987 and second as Commander, Electronic Systems Center at Hanscom from 1988-1993. These organizations developed and acquired all non-nuclear munitions and communications, command and control, and intelligence systems for the Air Force.
He retired in 1993 as a three-star general and after traveling to almost every corner of the world he settled with his wife, Barbara, in Bluewater Bay. He currently serves as Chairman of the Mid Bay Bridge Authority and the Air Force Armament Museum Foundation. He is also the Vice Chairman of the Fisher House of the Emerald Coast Board and serves as the Vice Commodore of the Eglin Yacht Club.
He is an active member of Niceville Valparaiso Chamber of Commerce Military Affairs Committee, Emerald Coast Military Affairs Council, Enterprise Florida, Defense Support Initiative of the Okaloosa County Economic Development Council, University of West Florida President's Council, a life-time member of the Air Force Association, and adviser to Florida's Great Northwest.
General Fornell has led five visits to Washington, DC advocating for military personnel, families and veterans in Northwest Florida. He is also the founder of the Gate-to-Gate Run at Eglin Air Force, a 33-year-old Memorial Day Weekend tradition where runners place flowers at the Veterans' Memorial along the route in honor of those who served.