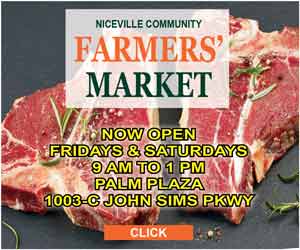 Supporting our brave military service members and their families has never tasted better! On Thursday, May 1, 2014, Pioneer Technologies Corporation in partnership with the Air Commando Association and Fisher House of the Emerald Coast will host the 3rd annual Taste of North Bay tapas and wine pairing at North Light Yacht Club in Niceville.
Guests will enjoy exquisite culinary offerings – paired with vintage wines – created by talented area chefs who, in the special VIP area, will reveal their secrets with live cooking demonstrations throughout the evening.  Music, fabulous raffle items and a silent auction will round out this popular event.   General admission tickets are $50 now and $75 the final week leading up to the event. VIP tickets, which include access to the special chef cooking demonstrations and unlimited wine tastings, are $75 and $100 the final week leading up the event. Proceeds benefit the Air Commando Association Endowment Foundation and Fisher House of the Emerald Coast.
 The Air Commando Association was founded in 1969 by Brigadier General Robert Cardenas and then Colonel Harry Aderholt as an organization for retired and active duty Special Operations Forces personnel. The purpose is manifold: bringing together airmen of all ranks to preserve memories and history, providing support to service members and their families and raising awareness and needed funds for their numerous outreach endeavors via their foundation.
 The Fisher House of the Emerald Coast provides a home for military families when a family member is undergoing medical treatment at any local medical facility. Fisher House believes that patients heal better and faster when their family is close by supporting them. There is never a fee to stay at the Fisher House nor is it funded by the government, so community donations are vital to providing all the necessary comforts of home to these families that are often separated.
As military programs are downsized or eliminated, supporting our services members and their families becomes more critical than ever. Enjoying an evening of delicious food and festive fun is a perfect way to do this!
Taste of North Bay
Thursday, May 1, 2014 at North Light Yacht Club, 113 John Sims Parkway W, Niceville, FL
Event opens at 6:00 p.m. – Tastings begin promptly at 6:30 p.m.
 Sponsorship opportunities are still available for this event.  For more information on how to become a sponsor, contact Kim Henderson at 850-259-4956. Donations to support the team can be made at www.AirCommando.org and www.FisherHouseEmeraldCoast.org
 Learn more about the event at www.TasteofNorthBay.org .