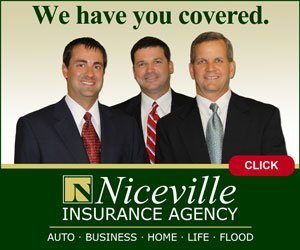 The City of Valparaiso will hold its Annual 5K Run and 200M Swim Duathlon on Saturday, July 4. This year's event also features two new competitions – a one mile Fun Run and a Paddleboard Race. The first event begins at 7 a.m.
Pre-registration is available and registration (on day-of-event) begins at 6:15 a.m. in Valparaiso's Lincoln Park. Registration is required to participate in any and all events. Registered participants will receive a free t-shirt (excludes 1 mile Fun Run) while supplies last. The cost is $20 if paid by June 26. Otherwise, the cost is $25.
The Duathlon begins at 7 a.m. at Lincoln Park, Bayshore Drive, with a 5K run to Lewis School (near Eglin's East Gate) and back. The racing route is mostly flat with a few hills and several curves which run along the picturesque shoreline of Boggy and Tom's Bayous. Water stations will be provided along the race course and splits will be read at each mile. The 200 meter swim course is in Boggy Bayou and begins and ends at Lincoln Park's beach. Assistance will be available during all phases of the Duathlon. Click here to print Registration Form.
The fun run will begin at 8:15 a.m. near the boat launch on the south end of Lincoln Park. This free event is for all ages and will follow North Bayshore from Lincoln Park to T-Pier and back to the starting area. There is no registration fee and no prizes for this event. Children in strollers and individuals with disabilities are welcomed to join our Fun Run. City ordinance does not allow pets in public parks and therefore pets are not permitted in this event.
The Paddle Board Race course will be from Lincoln Park to Toms Bayou Bridge and back – 3.2K. The competition will take place between Surf-style boards and Race-style boards with a male and female winner in each competition with recognition for second and third place finishers. This year's race will be limited to adults over the age of 18. Register by June 26 and receive a T-shirt – Cost $20. Awards for winners and door prizes will be given. Be at Lincoln Park by 9:15 a.m.  Race Time is 10 a.m.
4th of July Events Schedule:
6:15 – Registration for the 5K Duathlon and 5K walk begins.
6:50 – Runners and walkers gather at the start area for instructions.
7:00 – The 5K Duathlon 2K Swim begins.
7:05 – The 5K Walk begins.
8:10 – The Family Fun Run instructions
8:15 – The Family Fun Run begins.
9:00 – Registration for the 3.2K Paddle Board Race begins.
9:30 – Door Prizes for Duathlon runners and 5K Walker.
9:50 – Paddle Board Captain's Meeting for race instruction and rules.
9:58 – Paddle Boarders assemble at the starting position.
10:00 – The Paddle Boarding Race begins. 11:30 – Door Prizes for Paddle Board competitors.
For more information: Duathlon Facebook page.
View detailed information regarding registration and all scheduled events.