Two of the most award-winning theatre departments in the Southeast, Gulf Breeze High School and Fort Walton Beach High School, join forces to present "HOMETOWN HOLIDAY" at the Mattie Kelly Arts Center at Northwest Florida State College in Niceville on Sunday, December 11 at 2:00 pm.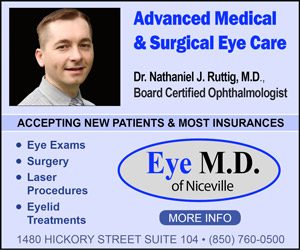 General admission tickets are $18 and will be available online at the Mattie Kelly Arts Center website or at the Box Office on the campus of Northwest Florida State College in Niceville.
The holiday spectacular features a heartwarming afternoon of beloved Holiday and Christmas music and characters performed by the most talented students in Northwest Florida! The Hometown Holiday features characters and musical numbers from some of the most beloved holiday movies of the season.
Proceeds from this event benefit the youth arts organizations and support the continuation of theatre in these public schools.
Tickets for Hometown Holiday are available from the Mattie Kelly Fine & Performing Arts Center Box Office at 850) 729-6000 or toll free at 1-888-838-ARTS (2787) or online at www.MattieKelly ArtsCenter.org. Box Office hours are Monday to Friday, 10 a.m. to 4 p.m. and 90 minutes prior to show time. Credit cards accepted: Mastercard, Visa, American Express, or Discover.
Program includes:
WHITE CHRISTMAS:
A CHARLIE BROWN CHRISTMAS:
MEAN GIRLS:
BABY IT'S COLD OUTSIDE:
SANTA BABY
THE MOST WONDERFUL TIME OF THE YEAR:
HANUKKAH SONG:
SANTA CLAUS IS COMIN' TO TOWN/ ZAT YOU SANTA CLAUS:
Silent Night;
I'll Be Home for Christmas;
Plus a variety of holiday musical numbers and carol sing-a-longs.